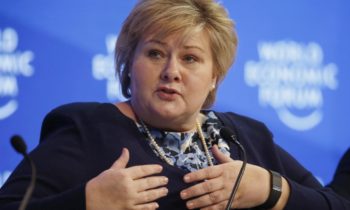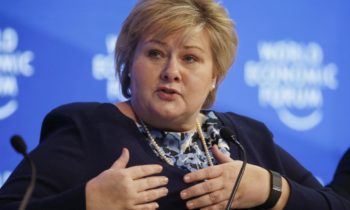 Prime Minister Erna Solberg says 'a joint effort is particularly important' in the face of pro-life pressure.
Norway has pledged millions of dollars to a global fund designed to help women access abortion services after Donald Trump cut support for health clinics across the world.
One of Mr Trump's first actions as President was to reinstate the Mexico City Policy, which strips US funding from health clinics that provide abortion services. It forces NGOs to agree to "neither perform nor actively promote abortion as a method of family planning in other nations" as a prerequisite for receiving US cash, and applies whether or not American money is used to pay for the procedures.
In response, The Netherlands announced it would establish an international fund to finance projects relating to access for birth control, abortion and women's education throughout developing countries.
Norway has pledged $10m (£8.05m) to the initiative, which aims to plug a $600m ($483m) funding gap over four years, Reuters reported. Belgium, Luxembourg, Sweden, Denmark, Finland, Canada and Cape Verde also back the scheme.
"At a time when this agenda has come under pressure, a joint effort is particularly important," Prime Minister Erna Solberg said.
Mr Trump's administration has taken a pro-life stance.
In January Vice President Mike Pence attended the anti-abortion March For Life, for which Mr Trump also tweeted his " support".
Mr Pence told marchers: "This administration will work with Congress to end taxpayer funding of abortion and abortion providers." He added: "Life is winning again in America."
And The Handmaid's Tale author Margaret Atwood said she believed the rise of the right wing had boosted sales of her classic dystopian novel.
The 1985 book describes an America ruled by a totalitarian theocracy that employs a secret police force to maintain its grip. Abortion is banned and women are categorised into legitimate and illegitimate groups.
"Handmaids" – re-educated women who have broken a law – are forced to bear the children of "Commanders of the Faithful" the highest-ranking men. "Unwomen", who may be sterile, feminists, or politically incompatible with the regime, are made to work in agricultural colonies.
Her claim followed a series of moves by conservative politicians to restrict access to abortions, and the leak of a draft executive order that would have enshrined conservative Christian beliefs on the subject, as well as on marriage and gender, in policy. It reportedly went unsigned by Mr Trump only after the intervention of his daughter, Ivanka, and her husband Jared Kushner.
(independent)