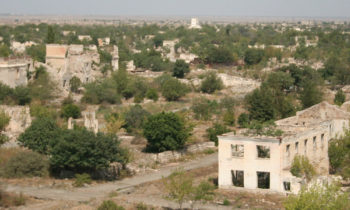 Latvia does not recognize the "independence" of Nagorno-Karabakh and the "referendum" which is held there, Latvian Ambassador to Azerbaijan Juris Maklakovs told Trend on February 20.
The so-called "constitutional referendum" is held on February 20 in the occupied Nagorno-Karabakh region of Azerbaijan, which is now ruled by a puppet regime controlled by Armenia.
Maklakovs stressed that Latvia supports territorial integrity of Azerbaijan and the efforts of the OSCE Minsk Group on the peaceful settlement of the Nagorno-Karabakh conflict.
Norwegian Embassy in Baku also said on February 20 that Norway recognizes neither the "independence" of Nagorno-Karabakh nor the "referendum" held there.
Earlier, Azerbaijan's Foreign Ministry as well as the OSCE Minsk Group co-chair states, namely Russia, the U.S. and France, have also confirmed that they will not recognize the "referendum" in Nagorno-Karabakh.
Azerbaijani MP Bakhtiyar Sadigov, in turn, urged international organizations to react to the illegal "referendum" in Nagorno-Karabakh.
"By not reacting to the conduction of illegal "referendum" by Armenian separatists in Nagorno-Karabakh, international organizations harm their prestige," he told Trend on February 20.
Sadigov said the "referendum" is designed for the domestic audience of Armenia and it has no legal force.
The MP added that international organizations have always applied double standards towards the issue.
"The four resolutions on the settlement of the Nagorno-Karabakh conflict, which were adopted by the UN Security Council, are still not implemented. And this organization does not respond to it," the MP said.
He also noted that the OSCE Minsk Group and the co-chair countries undertook mediation in the settlement of the Nagorno-Karabakh conflict by peaceful means, but failed to achieve any results so far.
Azerbaijan and Armenia fought a lengthy war that ended with the signing of a fragile ceasefire in 1994. Since the war, Armenian armed forces have occupied 20 percent of Azerbaijan's territory, including Nagorno-Karabakh and seven surrounding regions. More than 20,000 Azerbaijanis were killed and over 1 million were displaced as a result of the large-scale hostilities.
While the OSCE Minsk Group acted as the only mediator in resolution of the conflict, the occupation of the territory of the sovereign State with its internationally recognized boundaries has been left out of due attention of the international community for years.
Armenia ignores four UN Security Council resolutions on immediate withdrawal from the occupied territory of Azerbaijan, thus keeping tension high in the region.
(azernews)