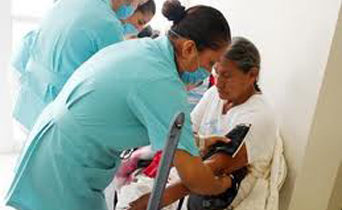 A delegation of professionals from the University of Applied Sciences of Norway visited the University of Medical Sciences of Havana (UCMH) in order to develop research and joint academic cooperation, especially in Masters and PhDs.
Dr. Nidia Márquez Morales, vice chancellor of the institution, and Professor María Elena Fernández, director of International Relations, explained to the visitors everything related to medical education in Cuba, with education at workplaces and prevention as basic principles.
All this endorsed by the regulatory agency of the quality of teaching in Cuba that certifies the level of the training processes in pre and postgraduate courses.
The delegation of Norwegian professionals is in Cuba since April 19. They were interested in knowing the characteristics of human resources training for health, especially in the specialties of nursing and health technologies and in the ways to strengthen cooperation by exploring opportunities at Master's level and joint research.
They also discussed the possibilities of developing proposals for bilateral projects and finding financing for research, academic cooperation and mobility of students and staff in both directions, says Cosme Moré, Head of Outreach and Information at UCMH.
Composed by the teacher Monica Wammen Nortvedt, dean of the Faculty of Social Science and Health; Britt Viola Danielsen, head of the Department of Nursing; Bjort Hafslund, at the head of the Department of Occupational Therapy, Physiotherapy and X-ray; Among others, the Norwegian professionals will stay in Cuba until next April 29.
(ACN)