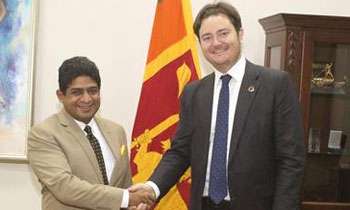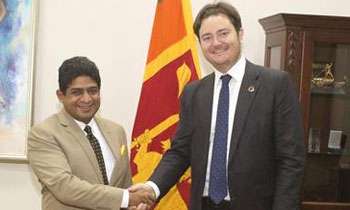 Visiting Norwegian State Secretary for Development Cooperation, Jens Frolich Holte today appreciated the continued commitment of the Sri Lankan Unity Government to strengthen democracy and promote and uphold human rights.
Mr. Holte expressed these views when he called on State Minister of Foreign Affairs Vasantha Senanayake at the Foreign Ministry.
In a statement, the State Minister's media division said the bilateral discussions broadly focused on the sustainable use of oceans and management of marine litter, a shared interest between Sri Lanka and Norway.
The importance of maritime security in the context of piracy, poaching and drug trafficking was also discussed.
State Minister Senanayake recalled the important contributions made by Norway as a longstanding development partner to Sri Lanka's economic and social development.
Norwegian assistance for upgrading Sri Lanka's fisheries sector was especially commended. He also provided an overview of the progress being made by Sri Lanka in the reconciliation process.