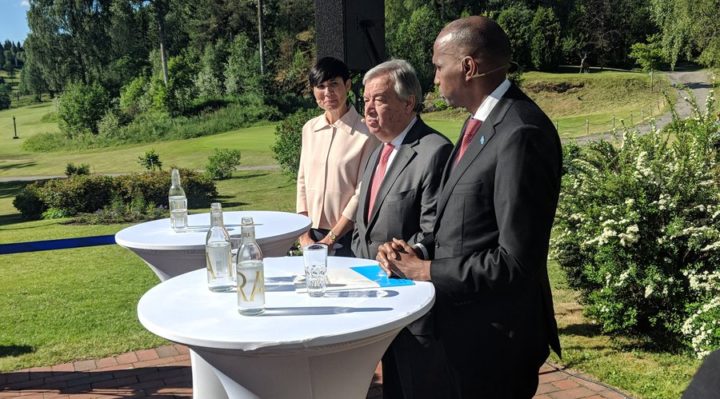 The number of countries involved in "violent conflicts" is the highest in 30 years, while the number of people killed in conflicts has risen tenfold since 2005, the U.N. secretary-general said Tuesday.
Antonio Guterres added that the number of "violent situations" classifiable as wars, based on the number of casualties, has tripled since 2007.
He also told reporters in Oslo, Norway, that "low-intensity conflicts" rose by 60 percent since 2007. Guterres gave no specific figures.
"Prevention is more necessary than ever," Guterres said, adding "mediation becomes an absolutely fundamental instrument in our action."
Guterres, who was attending a meeting on peacemaking, said that on top of regional conflicts, global terrorism was a new type of struggle that "can strike anywhere at any time."
The annual Oslo Forum panel discussion on peacemaking also was attended by leaders from Somalia, Algeria, Jordan, Oman and Tanzania. The White House envoy for the war against the Islamic State also attended.
The U.N. refugee agency said nearly 69 million people fleeing war, violence and persecution were forcibly displaced last year, a record number.
In its annual Global Trends Report published Tuesday, the U.N. High Commissioner for Refugees said the continued crises in places like South Sudan and Congo, as well as the exodus of Muslim Rohingya from Myanmar that started last year, raised the overall figure of forced displacements in 2017 to 68.5 million.
Later Tuesday, Guterres met with Erna Solberg, prime minister of Norway. The country is lobbying for a seat on the U.N. Security Council for the period 2021-2022.
Among the topics they discussed was the state of the oceans, which Guterres described as "a mess."
At a news conference with Solberg, Guterres said 80 million tons of plastic were being dumped into the oceans every year.
He said the U.N. would come up with a "battle plan" in September for the oceans, saying there is a "collective responsibility" to do something.
The oceans face threats from plastic garbage, illegal and excessive fishing, rising sea levels that could wipe out small islands, and increasing acidity of ocean water, which is killing marine life.