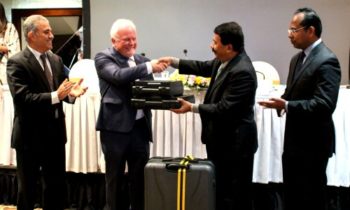 Norway is supporting Sri Lanka on a project to reduce the risk and impacts of landslides which is considered to be one of the major natural hazards in hill country of Sri Lanka.
The Norwegian Ambassador to Sri Lanka, Thorbjorn Gaustadsaether will visit Matale tomorrow (26th September) to observe project activities conducted under the technical cooperation between Norwegian Geotechnical Institute (NGI) and National Building Research Organization (NBRO) which operates under the Ministry of Disaster Management.
The technical collaboration on disaster risk reduction has been ongoing since 2012. The Norwegian Embassy in Colombo has so far contributed nearly NOK 8 million (LKR 150 million) and has agreed to extend the support with additional funds until 2020.
Several major outputs have been achieved under this cooperation, such as training of NBRO-staff on using advanced mapping techniques, use of advanced Ground Penetrating Radar equipment for mapping sub-surface conditions below the ground e.g. subsidence and sink holes in Matale and Jaffna, use of drone technology to map landslides, early warning of landslides in critical areas, ground water contamination assessment in Jaffna and use of remote sensing (Synthetic Aperture Radar, SAR interferometry) to detect subsidence in Matale etc.
A state-of-the-art Ground Penetrating Radar (GPR) system was tailor made at NGI and procured by NBRO to investigate land subsidence hazards. NGI's GPR system has been ranked as the best in the world by the European Commission, and has been used in many placed throughout the world for investigating sub-surface ground conditions. A number of automated rain gauges were installed at Peradeniya, Walapane, Naula and Ratota under this project to monitor rainfall, soil moisture, temperature and other parameters.
"Climate change impacts are intensifying extreme weather events and island nations like Sri Lanka are getting increasingly vulnerable. As an emerging economy, disaster risk reduction is becoming more and more important for Sri Lanka" the Ambassador said.
He further said "In May 2017, several hundred people lost their lives due to floods and landslides in Sri Lanka. Witnessing the devastating impact of such disasters, the Embassy decided to increase the support in the ongoing project for another two years based on the requirements of NBRO."
(N.Sethu)