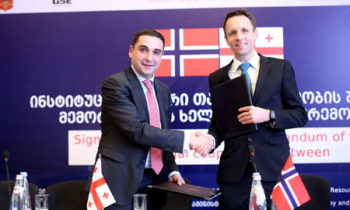 The Kingdom of Norway is supporting the development of renewable energy sources in Georgia by approving $4 million for the country.
This four-year grant program was approved yesterday after signing the Memorandum on Institutional Cooperation between Georgia and the Kingdom of Norway.
The grant program aims at assisting Georgia to develop its renewable energy sources, developing a normative base and preparing qualified staff.
Per the agreement, the graduates of Georgian Technical University will undergo the master's degree program in hydro engineering in Norway this year.
Also, five short-term courses will be arranged for several employees of Georgia's public services in order to improve their qualifications.
Norway will also help to establish hydrological and meteorological data management systems in Georgia and modeling water resources management.
The grant also supports projects such as developing the Electricity Market Development Guide and supporting Georgia's energy system integration with the Turkish energy market.
(agenda)