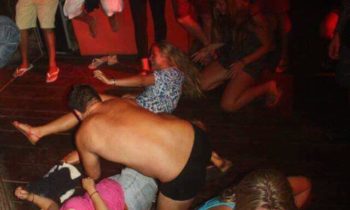 Cambodian Operation Barnevernet" ? Norwegian face year in Cambodian jail after being arrested for 'pornographic dancing' near holy Angkor Wat temples
Police in Siem Reap released pictures showing shirtless men simulating sex positions with women at a party.
Cops in Siem Reap, a town close to the ancient temples of Angkor Wat, released pictures of shirtless men straddling young women on the floor.
"There were about 30 of them (police officers)."
The arrested man said the group did not understand why they were being arrested and claimed he saw one of the men vomiting in shock.
The group arrested include five British men; Vincent Harley Robert Hook, 35, Daniel Richard Leeming Jones, 30, Thomas Alexander Jeffries, 22, Billy Stevens, 21, and Paul Francis Harris, 32.
A Dutch national, two Canadian women, a Norwegian man and a New Zealander were also arrested in the afternoon raid.
They said they had been assigned a Cambodian lawyer, and were due in court on Sunday.
They said their lawyer told them they could face up to a year in prison, and that they could be detained on a six-month waiting period if the case went to trial.
They said they have been sleeping on the floor of an office at a police station for three days, and emphasised they had been treated well by their captors – saying officers were friendly and had brought them pizza.
(N.Sethu)