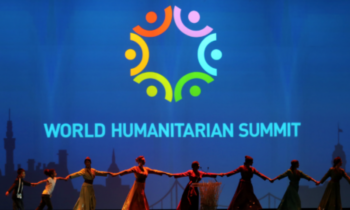 A new fund for education in emergencies, Education Cannot Wait, will be launched at the world Humanitarian Summit in Istanbul today. 'The aim is to increase access to education for children and young people in emergencies. This is important not only for the individuals concerned, but also for the future of the countries they are living in. Norway is providing up to NOK 100 million for the first year,' said Minister of Foreign Affairs Børge Brende.
Norway has played an active role in the development of the fund, and Mr Brende will take part in the launch. Today, 75 million children and young people are unable to complete normal schooling due to conflicts and protracted crises. Of them, 37 million children and youth are unable to attend school at all, and girls are particularly badly affected. Despite these facts, only 2 % of global humanitarian aid goes to education.
'Access to education is a fundamental right, but still too little is being done to ensure access to education for children and young people in countries affected by crisis and conflict. An important aim of this initiative is to mobilise political will and increase economic support for education. We want to ensure that all children and young people can go to school, not least in situations where the society around them is falling apart. The goal is that all children and young people in countries affected by crisis should be able to go to school by 2030,' said Mr Brende.
International support for education in crises often comes too late, and is too fragmented and too unpredictable.
'In order to fulfil the ambitious but crucial functions of the fund, efforts must be better coordinated between the authorities in the countries in question, the donor countries and the organisations we are supporting. We need more long-term financing, and we must improve our ability to produce concrete results on the ground to ensure that children can enjoy greater security and predictability, as well as good learning outcomes. Norway is seeking to engage more donors from all parts of the world. The aim is to mobilise USD 150 million during the first year,' said Mr Brende.
The most important actors in the field of education in crisis will be engaged in the work of the fund, including Unicef, key civil society organisations, and donor countries such as Norway, the UK and the US. Education in situations of crisis and conflict is a high priority in the Government's increased focus on global education and humanitarian efforts. Both last year and the year before, more than 8 % of Norway's humanitarian aid was allocated to education. The new fund has been developed as a follow-up of last year's Summit on Education for Development in Oslo.
(Press release)