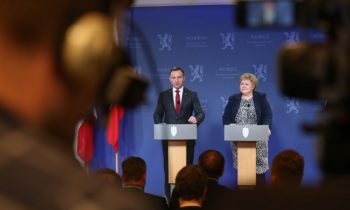 Polish President Andrzej Duda discussed strengthening relations in the energy sector with Norway during a visit to the country.
"We discussed two main topics, one was economic cooperation in the field of energy, and the second concerned the upcoming NATO Summit [in Warsaw in July 2016], as well as security issues in Europe and the world.
We were basically in agreement on both these issues, particularly that we need to have a consistent position to intensify energy cooperation," president Andrzej Duda said on Monday during a joint press conference with the Norwegian PM.
The key goal of Duda's visit is to underscore the importance of Poland's relations with Scandinavia, Presidential aide Krzysztof Szczerski told the PAP news agency ahead of the trip.
"We want Scandinavian countries to be a key partner for Poland, after Central and Eastern Europe," Szczerski said. Northern Europe is a region, which "has been somewhat marginalised by Warsaw for many years" and one which "Poland is now looking to establish strategic ties with," he added.
(rg)