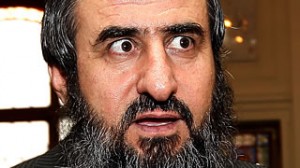 A Norwegian District Court sentenced controversial Kurdish cleric Najmuddin Faraj Ahmad, better known as mullah Krekar, to a year and a half in prison on Friday for threatening a Kurdish activist. "The threats were made under aggravated circumstances," the court said in it's ruling, cited by the local Norwegian Aftenposten newspaper.
Krekar in February said a Kurdish man living in Norway deserved to die after he posted images of himself burning the Koran.
Krekar said in an interview with broadcaster NRK that he would "send a gift" to whoever killed the man.
The cleric's threatening statements were made in interviews with Norwegian and Kurdish television in February, one month after Krekar was released after serving two years in jail for making threats against three Kurds and Conservative Party leader Erna Solberg, now Prime Minister of Norway.
Krekar was the original leader of the Ansar al-Islam militant group, active in the Iraqi Kurdistan Region and Syria from 2001 until its merger with Islamic State in mid-2014.
The group carried out numerous deadly attacks, and is widely regarded as a terrorist organisation.
Krekar first went to Norway as a refugee in 1991, and has since repeatedly travelled to the Middle East. He has been on the UN terror list since 2006.