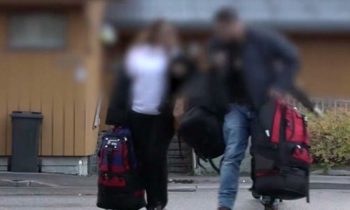 Radical Islamists have been caught infiltrating migrant reception centres in Norway and trying to recruit new arrivals to their cause, the Norwegian Police Security Service (PST) has warned. The extremists have been so visible that some migrants have asked whether or not they are really in Europe and free of the religious fundamentalism they claim to be escaping."We have seen signs that extreme Islamists have approached the reception centres and asylum seekers. They have been there to get contacts. Aside from that, it's difficult to say what their specific purpose is," Jørn Presterudstuen from PST told Norwegian news agency NTB.
"We are of course worried about recruitment into radical circles: of course we are worried about every single person that may be recruited by extreme Islamists and their cause."
Torshov reception centre in Oslo confirms that Islamists have visited and spoken to refugees at the centre.
"We had an incident here with an Islamist who has been in Norway for some years. His message was that the West had helped to destroy his homeland and they had to stand together within Islam. It was very important that they continued to go to the mosque and followed the rules, particularly with regard to women," the centre's manager, Hugo Limkjær, said.
An employee who did not wish to be named said that asylum seekers from Syria were fearful of the man.
"They were afraid and asked 'Have we come to Europe?'. They said that they had fled from this, the extremism," he told Norwegian broadcaster NRK.
Breitbart London has reported on the brazen move by Islamists who waste no time radicalising their latest Muslim recruits, approaching new arrivals as soon as they arrive in Europe.
Just last month German authorities cautioned that Islamists were taking advantage of migrants who were disorientated or without friends in their new country. An official in Bavaria said: "Salafists are trying to talk with unaccompanied youths who have come to Germany without their families and who are in particular need of support and connections.
"The Salafists are trying to use the desperate situation refugees find themselves in for their own goals".
Norway is no stranger to migrants and is not immune to Europe's migrant crisis. The country has seen a surge in the number of refugees arriving in recent months, with the the Norwegian Directorate of Immigration stating that their previous prognosis of 20,000 to 25,000 asylum seekers in 2015 is too low.
The UNHCR reports the number of asylum applications received in 2014 by EU member states rose last year by 25 per cent while Norway housed more than 47,000 refugees as of December 2014, but more have tried to make their way across the border with Russia on bicycles in recent weeks, exploiting a legal loophole prohibiting entry by car or by foot.