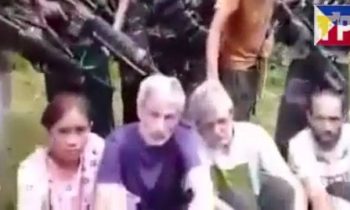 Two Canadian tourists and a Norwegian resort manager, as well as a Filipino woman, abducted by the Islamic State (Isis) affiliates from a popular resort in Philippines, appeared on a video released by the group late night on Tuesday. The four hostages were kidnapped from the Samal island in southern Philippines, and were taken to the Mindanao mainland on a boat by the gunmen on 21 September. Since then the Philippines army has been trying to locate them.In the nearly three-minute video clip, the four hostages are seen surrounded by masked, heavily armed militants. Isis banners are seen in the back.
The video shows the hostages pleading for help from the Canadian and Philippines governments. The fourth person, a Filipino woman, does not speak.
Canadian national Robert Hall is the first one to speak, who after assuring his friends and family of his health, tells that his life is in danger. He then requests his family and friends to contact the Canadian and Philippines governments to stop the military activities in southern Filipino province of Mindanao.
The next to speak to the camera is Kjartan Sekkingstad, the owner of Oceanview Marina from Norway. He makes the same request and emphasises that else "these people will kill us".
The last hostage to speak is a Canadian national, John Ridsdel. The camera shows a militant holding a machete near the head of Ridsdel, who then pleads to the Canadian and Philippines governments to help them by ceasing bombing, artillery fire and other military operations in the area and resume negotiations.
At this, a militant wearing sunglasses step forward and repeats the demands of the group and speaking in English, says that any negotiations are possible only after military action is stopped in the region.
The Philippine army has said that the negotiations would be unlikely and its military offensives would continue.
Colonel Restituto Padilla, an army spokesman, told GMA News: "The policy of the government, as well as others who have been in this kind of situation, is that there is no negotiation that can be made with any of those who perpetrating this crime."