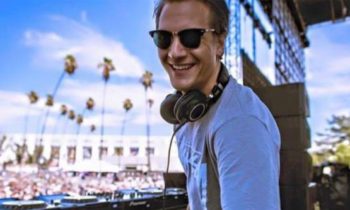 Nobel Peace Prize Concert organizers today announced that Norwegian DJ/producer Matoma is confirmed for the 24th annual event in Oslo, Norway on December 11th at Telenor Arena, honoring the Nobel Peace Prize laureate, ICAN, the International Campaign to Abolish Nuclear Weapons. Matoma joins an elite group of artists who have performed at the concert over the years, including Paul McCartney, Alicia Keys, Rihanna, Sting, Andrea Bocelli, Tina Turner, Ellie Goulding, Kygo, A-ha and many others.
"I'm incredibly proud and honored to announce that I will be performing at this year's Nobel Peace Prize Concert," said Matoma. "I'll be coming to Telenor Arena in Oslo on December 11 bringing some special guests, some surprises, and as always, some good vibes and love! The Peace Prize is all about spreading the love, and as you know that's always been my message so I'm humbled and honored to be asked to perform at this beautiful and incredible concert."
"We're excited to have Matoma join this year's Nobel Peace Prize Concert lineup," said the concert´s producers Odd Arvid Strømstad and Kristian Kirkvaag. "In a time where Norwegian artists are increasingly establishing global careers, we are proud to welcome Norwegian Matoma who has had an amazing international breakthrough in the past couple of years."
Matoma has made a huge impression on the worldwide music scene with his innovative playlist 'Hakuna Matoma,' showcasing his unique tropical house flair and featuring collaborations with a who's who of global music stars – One Direction, Coldplay, Snoop Dogg, Jason Derulo, Jennifer Lopez, Dua Lipa, Sean Paul and more. Its tracks have accumulated a staggering one billion streams at Spotify alone. The collection also featured his first two UK hits which both received extensive airplay at Radio 1. 'All Night,' his collaboration with The Vamps, has sold over 500,000 copies domestically and is featured on their #1 album 'Night & Day.' It followed his first chart hit, the Silver-certified 'False Alarm' alongside Becky Hill.
Matoma's rising star status is continuing to grow with the release yesterday (November 17) of his new track 'Slow' (featuring Noah Cyrus), followed by his second album 'One In A Million,' to be released March 9, 2018. Matoma will preview the album by embarking upon his 'One In A Million'world tour in January, which will see him performing some of his biggest venues to date. The 'One In A Million' tour is certified carbon positive by CHOOOSE, an initiative that works with the United Nations to reduce the total carbon footprint and create a climate positive experience.
Matoma joins previously announced headliner John Legend, Swedish singer/songwriter Zara Larsson, Norwegian EDM superstar Alan Walker and Norwegian singer/songwriter Sigrid Raabe on the Nobel Peace Prize Concert lineup, with additional artists to be announced in coming weeks.
(N.Sethu)