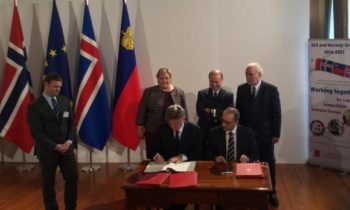 Malta is to receive an €8 million grant from the European Economic Area (EEA), Malta Prime Minister Joseph Muscat announced today.
The funds will be spent on four priority areas, namely culture, health, children at risk and local development.
The European Economic Area is made up of Norway, Iceland and Liechtenstein.
Speaking during a visit by Norwegian Prime Minister Erna Soldberg, Dr Muscat praised Norway for sticking to its pledge to take refugees from the rest of Europe.
He said the €8 million in funds would go towards improving the lives of many people in Malta.
Dr Muscat said such agreements were of importance as they signalled that countries were still willing to work together at a time of a new world view.
Prime Minister Soldberg noted that Malta had taken over the EU Presidency at a very challenging time.
She said Norway was ready to work with the EU on tackling European challenges.
(times of malta)