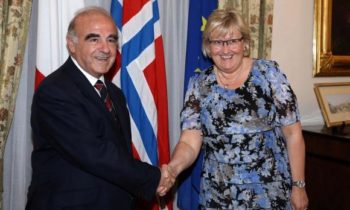 Maltese Foreign Minister George Abela met with Norway's EU Affairs Minister Elisabeth Aspaker today.
The official talks centred on the Mediterranean's ongoing problems with irregular migration, with both ministers stressing the urgency of the situation as well as the importance of the humanitarian aspects of the phenomenon.
Ms Aspaker said that Norway remained committed to working with the EU to address common challenges.
Dr Vella thanked Norway for financial support and cooperation provided under the European Economic Area and the Norway Grants Programme. He said the two countries should explore new possibilities to further augment commercial exchanges and contacts, together with maximising existing tourism potential.