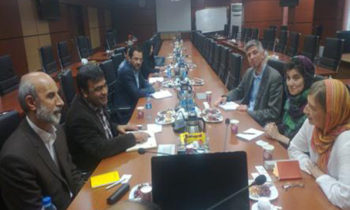 Head of Iran Veterinary Organization, Mehdi Khalaj, met with Norway's ambassador to Tehran, Aud Lise Norheim, and discussed cooperation on fishery and fish diseases.
"The development of bilateral cooperation in scientific and technical areas within the framework of the signed MoU between Tehran and Oslo is of underlined value," said Mehdi Khalaj, the Head of the Iran Veterinary Organization (IVO) on Tuesday in his meeting with Norwegian ambassador to Tehran, Aud Lise Norheim.
The Iranian official, during the meeting, called for cooperation on countering and controlling diseases of the fish farmed in netcage fish farming projects.
"Iran has the capacity and preliminaries for exporting fishery products to the EU and currently Iranian prawns are exported to the member states of the union, in line with all the passed regulations of the EU," contended Khalaj.
The Norwegian ambassador, in this meeting, voiced her willingness to follow-up a Memorandum of Understanding between veterinary organizations of Iran and Norway, in addition to holding joint training courses for the veterinarians who are hired in aquacultural plants.
"Norway has been the pioneer of aquacultural fish farming and has got a highly-developed technology and scientific methodology in dealing with diseases in farmed fish," boasted the Norwegian envoy to Tehran.