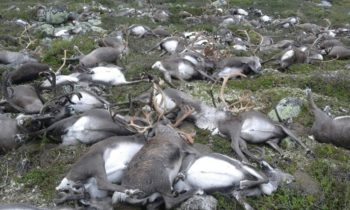 More than 300 wild reindeer were found dead after lightning struck a central mountain plateau in southern Norway, authorities said Sunday.
A thunderstorm hit the Hardangervidda mountain plateau on Friday in the Telemark region, where game wardens had so far counted 322 dead reindeer, Knut Nylend, spokesman for the Norwegian Nature Inspectorate, told Norwegian broadcaster NRK.
Nylen attributed the "unusually high" death toll to the lightning strike and the fact that reindeer often stand close to each other.
The Hardangervidda plateau, a large portion of which forms a national park, is a popular destination for outdoor activities and is home to an estimated 10,000 wild reindeer, according to the Norwegian Wild Reindeer Centre.