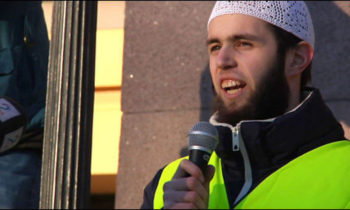 On Monday, global youth Counter Violent Extremism (CVE) summit in New York found an unusual speaker. Yousef Assidiq, a former recruiter for Norway's radical outfit, Prophet's Ummah, shared stage with youths from various countries and spoke on how radicalization and violent extremism had marginalized him in the society and he now finds hismself a "free Muslim" after leaving radical thoughts behind. The Summit was roganised by the Department of States and over two dozen youths, working on the subject, were invited from across the world.Ummah is suspected to have been radicalizing youths and sent them to join the erstwhile Al-Qaeda and now to the Islamic State (IS).
Once a die-hard fan of yet to be banned outfit Ummah, Assidiq, now 27, has been travelling different cities in Norway. "I was born in a Christian family. As a teenager I would study a lot. In 2009, I embraced Islam however my family did not take it well. They disapproved my conversion. However, I was firm on Islam. I had just changed my religion but was upset when my family members, relatives and friends' behavior changed towards me. I found myself alone. During this period, I would go for prayers. When I narrated my story to a person, Mohammed Bhatti, he embraced me and told me not to worry since they would be my family henceforth," said the Sociology graduate from Oslo university.
"Bhatti kept meeting me and offered me to join his group, Prophet's Ummah. I was attracted towards it since they would always talk about Islam, Muslims and seemed worried to help Muslims socially and economically. I would roam around with them to find new members for our outfit," he added. "They had shown me videos of Iraq violence and persecution on Muslims in several other countries. While I would want to learn Islam, they would talk about ideology. My recruiter, Bhatti, had shown me videos of several terror attacks. He had kept 9/11 twin tower bombing photos as his facebook profile picture.
In 2010, a Norwegian daily newspaper, Dag Bladet, carried the caricature of Prophet in its edition. This sparked outrage among the Muslim community across Norway. "We came on the roads and a mob of 3,500 Muslims gathered to protest the printing of caricatures. While I delivered a speech, I found my mother had also come there to see if I was safe. Bhatti had become very emotional during his speech. He threatened saying if such acts were not stopped, there will be multiple 9/11 like attacks in Norway," said Assidiq. He said he was upset with this since "I never wanted violence. I joined Islam since I love the religion. During this time I went home to meet my parents and who offered me an option. Either be with them or with the outfit. This was the turning point since I did not want to hurt my mother. Moreover, this was not the kind of Islam I love. The outfit was promoting hatred and training youths for militancy. I decided to quit the outfit and finally came home in 2014. Nobody stopped me but threat to my life began," said Assidiq softly.
Assidiq was invited by the Department of State to speak and narrate his story as to how he returned to a normal life after change of heart. While the official figures say 80 youths, all trained by Ummah went to join the ISIS, Assidiq said unofficially more than 150 youths have left Norway and joined ISIS in Syria. "Now I find out potential youths in Norway through social media who could join the terror gangs. "I meet them and listen to them as to why they want to join the ISIS. "The major reason for the youths to join these groups, I found, is uncertain future, identity crisis, poor economic and educational structure of several Muslim youths, social security, loneliness, and unemployment" he said. Assidiq now sports long beard. Assidiq recalls incident of "discrimination" since he converted to Islam. "A woman had shouted at me taunting I should leave her country. These things hurt and Muslims go through this. We need to change people's mentality," he said.
Assidiq started a firm, Just Unity, in 2014, along with a female colleague. "We go schools to school and narrate m stories and tell the students not to adopt any radical route. With me also comes the woman whose son escaped from Norway and joined the ISIS. He was shot down while fighting for the ISIS in 2014. The mother of that guy narrates hear ordeal and the trauma she is going through. This is helping to convey our message to more students," he added. Last week Norwegian Prime Minister, Erna Solberg, invited Assidiq to discuss the counter violent extremism.
Just Unity is now working to identify the youths who may have radicalized thoughts. "We search on internet and when spot any such youth, we meet them and offer them help like job and other things. Its bringing a positive and I could be able to save 30 youths from going and joining ISIS so far. "The terror operatives call me up on my cell phone and threat with dire consequences and even issue me threats through social media as well.
Meanwhile, Sitan Berger Rosland, Governing Mayor of Oslo, in an interaction with the Foreign Press at the United Nations on Tuesday, said that its not allowed to promote violence anywhere in the world. "Most effective way to stop youths from joining the extremists' gangs, which they feel is fascinated, is by engaging them into dialogues and interactions. There is need to explain these young men the ideology of the extreme organization and that they are not going to achieve anything by violence. Moreover, banning such extreme organisations is not a solution," said Rosland.
(indiatimes)