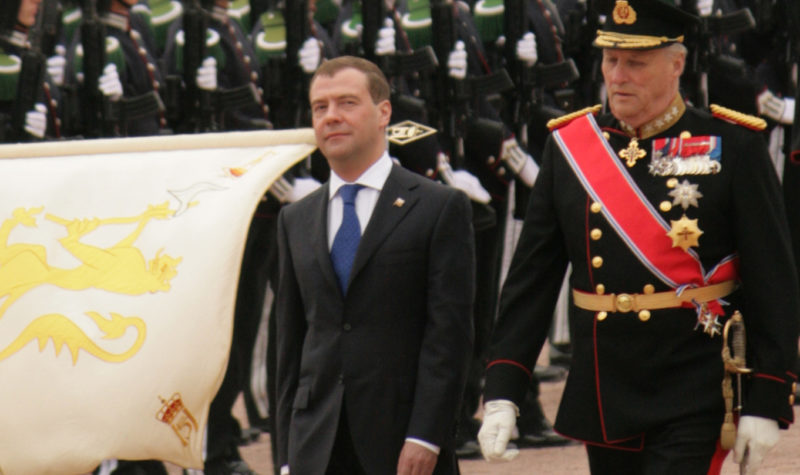 Cooperation in the North continues, but consequences of the conflicts are primarily noticeable on the political level and in military cooperation.
– I think the notion of "Arctic exceptionalism", in that Arctic cooperation is isolated from conflict spill over from other regions is being challenged, but that it still holds, says fellow Tom Røseth at Norwegian Institute for Defence Studies, to High North News.
Most cooperation is affected
-Most Arctic cooperation is affected in some way or another, although the degree varies significantly. On one side, you have the same decision makers on the top in charge of a broad foreign- and security spectrum including Arctic policies, and these are not unaffected by the consequences of the Russia-West conflict over Ukraine, Røseth continues.
-On the other hand, solid institutions and bilateral networks are established, designed to handle political shifting winds, as was the case during the Cold War.
Røseths general impression is that although some work is affected and focus adjusted, such as in the Arctic Council case, cooperation continues. Consequences are primarily noticeable on the political level and in military cooperation.
Business as usual – almost
-But, he says, -further down to the individual and more practical issues, pragmatism and business as usual more or less prevail. We should keep in mind that it is in all the Arctic states' interest that the Arctic remains calm and stable, and the many challenges in the region require common solutions.
Russia, in addition to Norway, has the most to lose from a militarization of the Arctic where commercial, environmental and security cooperation becomes unattainable. With the accession of Asian states as permanent observers in 2013, the Arctic is truly internationalized, and herein lies an expectation and obligation upon the Arctic states to manage the region responsibly and peacefully. A potential spillover to the Arctic instigated by Russia is not likely, as it would counter its strong regional interests, which are vested in a legitimate Arctic regime, prospecting economic opportunities and aspirations for a strategic trade route, Røseth says.
Less trust and goodwill
Senior research fellow at NUPI, Elana Wilson Rowe, agrees when it comes to the effect on a military level. She is, as many others, preoccupied by the effect on the weakening, or lack, of trust that the worsened geopolitical climate are creating.
-Apart from high-level military cooperation, like the CHOD meetings (Arctic Chiefs of Defence Staff), Arctic multilateral cooperation seems to go on well. By and large, the Arctic Council cooperation has been buffered from geopolitical tensions. However, although there still may be a lot of trust around the table amongst the diplomats and civil servants who are used to meeting each other regularly, there is certainly much less trust and goodwill between home capitols, Wilson Rowe points out.
"Cooperation? I think not"
-That is one of the key policy environments these individuals have to navigate, they might meet another reality when the return to their home capitols. It's also difficult to know, even as regular cooperation continues, what more ambitious or groundbreaking policy efforts have had to be put on ice (for example, like the 2011 and 2013 binding agreements). Discussing revitalization of the Arctic Council at 20 years, what needs to change may be challenging, thinks Elana Wilson Rowe.
-But then they turn up in Washington, or Moscow, with plans, and might meet a reaction like; do we cooperate ambitiously with "them? I think not"…
Who is picking up the phone?
For Norway and Russia, bilateral military cooperation has been suspended. The northern commands still have their direct communications in place for urgent communication. But some of the openness and clarity of communication is likely reduced due to lack of face-to-face contact in other settings. It is not that the telephone line between the countries are not there anymore, but who is picking it up and do the "chatting"? How well do they know each other?, she asks rhetorically.
Wilson Roew is pointing out that personal relations across the Barents in many fields from military to civil society, actually is a heritage from Thorvald Stoltenberg's time as Norway's foreign minister and envisioned to serve the purpose of peace, certainly serves to facilitate effective communication.
-I think that this mutual and informal contact between the institutions and the people working there is suffering, she says.
Not a bragging matter
And she points out another aspect of the new situation:
-In our research, we have noted that, before the annexation of Crimea, Russian politicians used to highlight positively their contact with other Arctic states in mainstream Russian media.
Many photos of Lavrov meeting the Arctic foreign ministers. Now the same media coverage scarcely mentions the international Arctic and primarily focuses on Russian northern domestic issues or on military feats of strength in the region. One could argue the same in Norway, that cooperation with Russia is now no longer a great sell to voters.
The neighborhood is changed
Elana Wilson Rowe thinks that, in the Arctic, the cooperation will continue, but it will be a cooperation based on the overlapping political interests of the parties involved, not out of the pursuit of regional cohesion for its own sake.
-That means the ambitions of the significance of regional cooperation and the associated rhetoric changes. Neighbors, but not "without fences".
—
Tom Røseth is Fellow at the Centre for Asian Security Studies, Norwegian Institute for Defence Studies.
Elana Wilson Rowe is a senior research fellow at NUPI and an adjunct professor at NORD University.