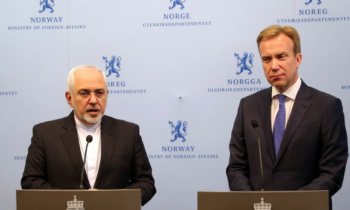 Iranian Foreign Minister Mohammad Javad Zarif says only diplomacy and not military approaches can settle the five-year-old crisis in Syria. "The Syrian crisis can be only resolved politically, and a solution to the Syrian crisis will not be achieved through military means," Zarif said in a joint press conference with Norway's Foreign Minister Boerge Brende in Oslo on Monday.
Noting that Iran believes the conflict in Syria will be only resolved through a diplomatic mechanism, Zarif added that Iran's four-point initiative can help find a solution to the Syrian crisis.
Iran has drawn up a four-point peace plan on the Syrian crisis, which calls for a national unity government, ceasefire, fighting terrorism and constitutional reforms in the violence-torn Arab nation.
Syria has been gripped by militancy since March 2011. UN special envoy for Syria Staffan de Mistura estimates that over 400,000 people have been killed in the conflict.
Importance of Iran-Norway ties in post-JCPOA era
The Iranian minister also stressed the importance of strengthening relations with Norway in different sectors after the implementation of the last year's nuclear agreement, known as the Joint Comprehensive Plan of Action (JCOA), reached between Iran and the P5+1 group of countries.
In a Monday meeting with the president of Norway's parliament, Olemic Thommessen, Zarif said the two countries can boost cooperation in different fields including fishery and energy.
Thommessen, for his part, welcomed the expansion of mutual relations and expressed hope that Tehran and Oslo would adopt strategies to improve parliamentary cooperation.
Iran and the five permanent members of the UN Security Council – the United States, France, Britain, China and Russia – plus Germany signed the JCPOA on July 14, 2015.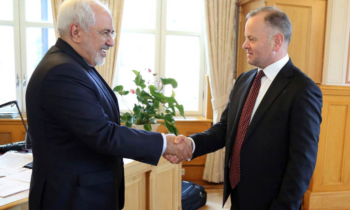 Under the deal, which took effect on January 16, all nuclear-related sanctions imposed on Iran by the European Union, the United Nations Security Council and the US would be lifted in return for limitations on Iran's nuclear activities.
Heading a high-ranking delegation, the Iranian foreign minister arrived in Norway on Monday to hold talks with the European country's officials and participate in the Oslo Forum.
Zarif also held separate meetings with the chairperson of the Standing Committee on Foreign Affairs and Defense, Anniken Huitfeldt, and former prime ministers Kjell Magne Bondevik and Kare Willoch.
Around 100 prominent mediators of armed conflict and peace process actors from around the world will gather in Oslo, Norway, on June 14-15 to share their experiences of peacemaking as part of the 2016 Oslo Forum.
The Oslo Forum is widely regarded as the leading international network of armed conflict mediation practitioners. It regularly convenes senior conflict mediators, high level decision-makers, key peace process actors, analysts and experts from a variety of institutional backgrounds in a series of informal and discreet retreats.