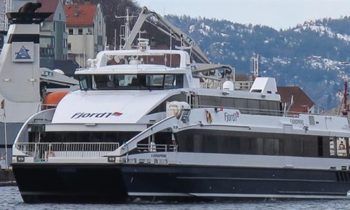 Fjord1, one of the leading public transportation companies of Norway, has signed a new building contract with Turkey's Tersan Shipyard for two fully electrical, battery-powered ferries, it said in a press release on June 13.
"These battery-powered ferry projects will be pioneering the Norwegian environmental friendly public transportation policy and Tersan Shipyard is very proud to be involved in these future ferries," said Nurettin Paksu, chairman of the Board at Tersan Shipyard.
The two ferries are expected to start operating on Jan. 1, 2018, on the west coast of Norway, the release said, noting that this would be the first ferry connection in Norway in which the Road Administration requires the use of zero-emission technology.
The batteries will be charged at fully automatic charging stations at the quayside, although the battery capacity will be sufficient to continue operations for several hours without charging, said Fjord1.
The construction of the two ships is scheduled to begin at Tersan Shipyard in Turkey in October this year, noted the company.
The ferries' cargo capacity is 120 cars, 12 trailers and 349 passengers, and the design has been undertaken by the Norwegian company Multi Maritime in cooperation with Fjord1.