Islamic State has claimed that the Westminster terrorist who brought bloodshed to the heart of London was a "soldier" of the terror group.
Norwegian Prime minister Erna Solberg tweeted: "Terrible to see an attack in the heart of the British democracy. My thoughts with the victims."
A police officer who was among those killed in Wednesday's terror attack outside the British Parliament building in London has been identified as 48-year-old Keith Palmer, who worked for the Metropolitan Diplomatic Protection Group. He was a father and a husband.
The attack left four other people dead, including the attacker, and more than 40 injured. The assailant, who has not been identified, appeared to run over bystanders with a vehicle, then stabbed Palmer before he was shot to death by another officer trying to enter the Parliament building.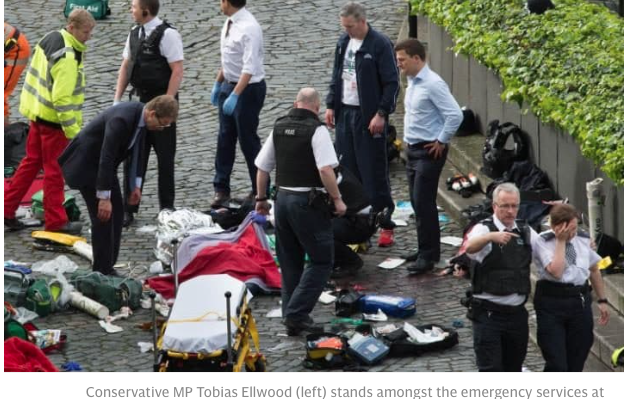 Among those hurt were three French students aged 15 and 16, Le Telegramme reported. The publication said the teens were walking on Westminster Bridge when they were struck by a vehicle.
Rowley said three officers returning from a commendation ceremony also were struck by the vehicle and were in serious condition. A doctor at St. Thomas Hospital described the victims' injuries as "catastrophic," according to the Press Association.
A Reuters photographer captured the chilling scene, which showed injured and bloodied victims lying on the ground. In one photo, a body could be seen stuck under the wheel of a bus. Three of those who were killed were struck on the bridge.
Tobias Ellwood, a member of Parliament and British foreign minister for the Middle East and Africa, rushed to the aid of Palmer after he was stabbed. Ellwood, a former soldier, attempted CPR on the officer and tried to stop the bleeding by applying pressure to his wound. Ellwood stayed with Palmer until medical crews arrived.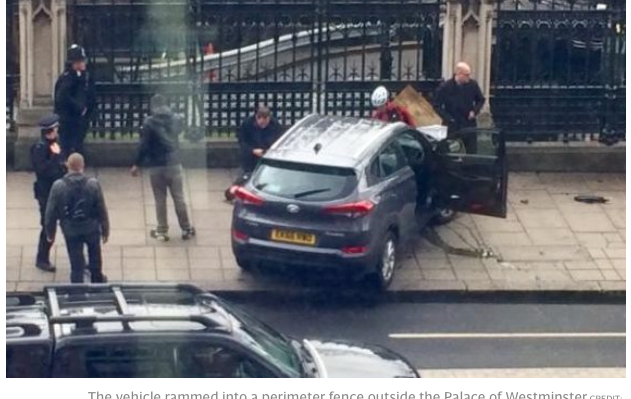 Four people have died, including a policeman and the attacker.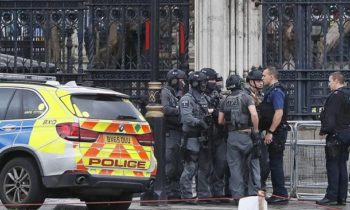 Police say 29 other people were treated in hospital, seven of whom are in a critical condition.
The assailant drove a car into pedestrians on Westminster Bridge, killing two people, before crashing it outside parliament and trying to enter the complex, armed with a knife.
He stabbed an unarmed police officer who later died from the injuries, before armed police shot him. The police officer was identified as 48-year-old PC Keith Palmer, who had 15 years of service with the parliamentary and diplomatic protection service. He was a husband and father, police said.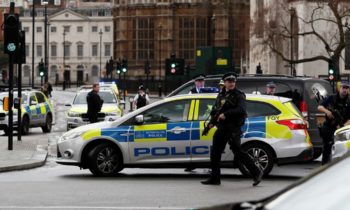 Another victim was named as Aysha Frade, 43, who worked as a teacher in London. The mother-of-two had family in Betanzos, Galicia, in north-west Spain and her death was confirmed by the mayor of the town.
The prime minister, Theresa May, said the attacker was British-born and had been investigated "some years ago" by MI5 in relation to concerns about violent extremism. She said the man, whose identity she said would be revealed in due course, was "not part of the current intelligence picture".
The attacker is believed to have acted alone but police are investigating possible associates. May said there was "no reason to believe" further attacks on the public were planned.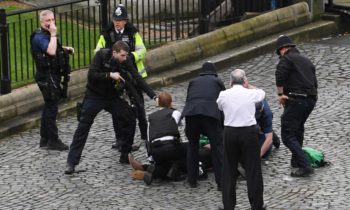 Police have searched six addresses in Birmingham, London and other parts of the country, and made eight arrests.
May told MPs in a statement to parliament on Thursday: "We are not afraid and our resolve will never waiver in the face of terrorism." The prime minister, who was evacuated from parliament within minutes and driven to Downing Street, described Palmer as "every inch a hero".
Twelve Britons were injured, including three police officers, two of whom were seriously injured, and four university students, as well as three French children, four South Koreans, two Romanians, two Greeks. a Chinese national, an Italian, an American, a Pole, an Irish national and a German woman resident in Australia.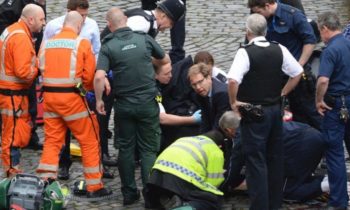 A woman who was pulled from the Thames was a Romanian tourist celebrating her boyfriend's birthday in London, the Romanian ambassador to the UK, Dan Mihalache, told Realitatea TV. She sustained serious head injuries and badly damaged lungs. Her boyfriend suffered a fractured foot.
The minister for counter-terrorism, Tobias Ellwood, a former soldier, raced to give first aid to the police officer who later died. Pictures showed him with blood on his face as he administered CPR.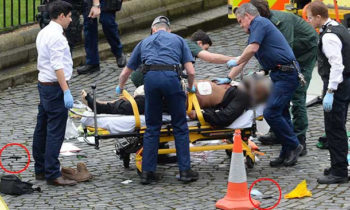 The London mayor, Sadiq Khan, vowed "Londoners will never be cowed by terrorism" in a video statement.
World leaders condemned the attack and offered condolences. The US president, Donald Trump, spoke to May, promising the UK the full support of the US government in responding to the attack.
Leaders of Canada, France, Germany and Spain were among others who sent messages of shock and solidarity.
Extra police were on duty across London, and the Metropolitan police force set up a casualty bureau for those worried about friends or family.
A service took place in front of Scotland Yard on Thursday morning, in front of the flame that burns as a tribute to all dead Metropolitan police officers.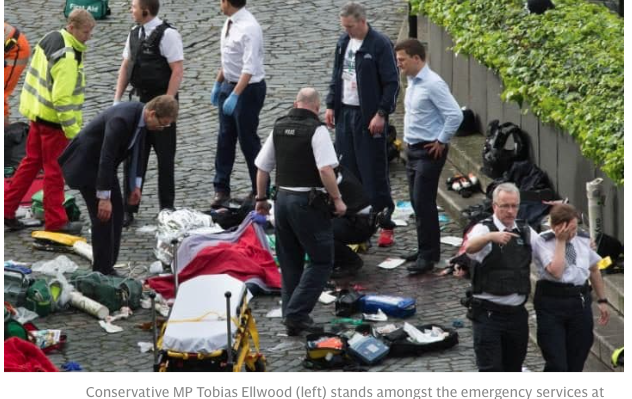 (C2 from Norway News)