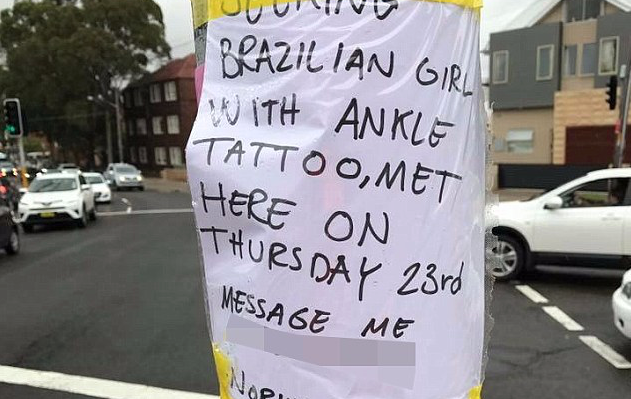 A romantic Norwegian guy has gone out on a limb to get back in touch with a young woman he met in Bondi on Thursday.
The man was taken by the woman who met while crossing Old South Head Road in the popular beach side suburb of Sydney.
But he seemingly missed an opportunity to get the woman's number in person so posted a hand written note on the traffic pole next to the road where they met.
'Seeking Brazilian girl with ankle tattoo, met here on Thursday 23rd, message me,' the man wrote.
He scrawled down his mobile number before signing off with 'Norwegian guy'.
Just hours after the note was fixed to the pole – with fluro yellow tape so it couldn't be missed someone had posted it online.
'We all know that Brazilians are the best but what is this,' the post on a Bondi group read.
The romantic gesture received reactions online from more than 500 people in less than five hours.
Comments ranged from supportive to comical.
'The difference between whether this is romantic or stalking lies with how good looking the bloke is,' Ron Berg said.
'I hope she has watched Vikings for some background research,' David Nolan added.
'That must be a pretty cool ankle tattoo if he's that desperate to see it again,' Jase Sun said.
While others wished the man well.
'That is fantastic.. hope he gets lots of Brazilians with ankle tattoos messaging him.'
Daily Mail Australia have contacted the mystery Norwegian man for comment.
(dailymail)