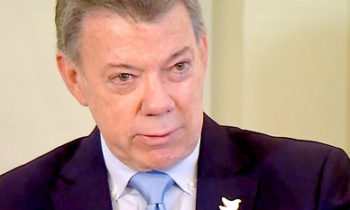 Colombian President Juan Manuel Santos, accompanied by 20 special guests, arrived today in this capital, where he will be awarded tomorrow the Nobel Peace Prize of 2016.
When leaving Colombia, Santos declared he will receive the award on behalf of all Colombians, but mainly in remembrance of the victims of the conflict that lasted more than 50 years.
The entourage of Santos, who arrived aboard a Colombian Air Force plane, is made up of about 30 people, including guests who are victims of the internal armed conflict, officials and family members.
Colombian President Juan Manuel Santos says he has brought no members of the leftist FARC rebel group to Oslo for the Nobel Peace Prize ceremony because he doesn't want to "create problems" for the Norwegian government.
Santos told reporters Friday that the rebels, with whom he recently reached a peace agreement, "will be here in heart and spirit."
He said a Spanish lawyer that served as a chief negotiator for FARC would represent the rebels at the ceremony on Saturday.
After receiving the Nobel Peace Prize, the Colombian president will carry out a European tour of several days comprising Sweden, Spain, Belgium and Italy, where he will have an audience with Pope Francis.