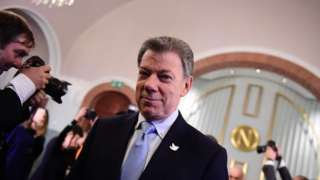 Rome – Following the historic peace accord with the FARC (the Revolutionary Amed Forces of Colombia), Colombia is pressing ahead in developing business activities.
It is placing a special focus on Italy, "a country of excellence, home to incredible entrepreneurs and engineers".
Colombian President Juan Manuel Santos will be awarded the Nobel Peace Prize on Saturday in Oslo. He will then continue his journey to Brussels, Madrid and Rome, arriving in the Eternal City on December 15.
Colombia's new ambassador to Italy, Juan Mesa Zuleta, informed AGI about President Santos' mission to Italy. "I arrived in Italy three months ago and have held meetings with over 100 entrepreneurs.
They are from all the Italian regions, and are interested in investing in Colombia. Italy has cutting-edge products and its entrepreneurs are interested in investing and networking at an international level," said the ambassador.
President Santos' three-day mission to Italy will include institutional meetings, talks with President Mattarella, a visit with Pope Francis, and a business forum with Italian entrepreneurs who see great potential in post-FARC Colombia.
"Currently, bilateral relations between Italy and Colombia are still limited, as trade accounts for 1.2 or 1.3 billion euro. Colombia exports fuels, mineral oils, coffee and bananas to Italy. Italy in turn exports to Colombia, above all, agricultural machinery, pharmaceuticals, electrical materials and equipment. Italian enterprises have expressed a great interest in increasing trade, especially in the agricultural sector and the fashion and clothing industry.
Enterprises such as Enel, Impregilo, Salvini, Autostrade are the major stakeholders. Top Italian designers are coming to Colombia to utilise local labour forces. This is an industrial sector with great potential." The market is actually very large. "Following the free trade agreement signed in 2012 and enforced in 2013 between the European Union, Peru and Colombia, custom taxes have been considerably reduced," added the ambassador.
Colombia is a gateway to Latin America and Korea, thanks to the Pacific Alliance (the free trade area including Colombia, Mexico, Peru and Chile) and the recently enforced trade deal signed with South Korea. The Pacific Alliance area represents a market of 200 million people.
Colombia's position is strategic, as it has coasts on both the Atlantic and the Pacific Ocean. Its climate enables all-year-round farming.". .