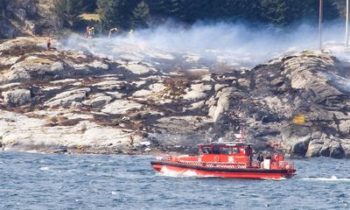 Airbus Helicopters has acted to allay concerns over the safety of its Super Puma aircraft after Norwegian investigators declined to rule out a repetition of past gearbox problems being the cause of a crash that killed 11 oil workers and two pilots.
The Accident Investigation Board of Norway said in a preliminary report on Friday that it was examining three possible causes for the April 29 crash near Bergen in which the main rotor section separated from the aircraft.
These included the struts that attach the rotor head to the helicopter, and two parts linked to the gearbox that drives the blades — the "epicyclic module" and the main gearbox housing.
Britain and Norway have grounded commercial Super Puma flights, a workhorse of the oil industry, amid oncerns over a repeat of gearbox problems linked to previous accidents.
In an unusual move during an investigation, Airbus Helicopters issued a statement narrowing the probable cause to the attachment of the struts, known as "suspension bars", rather than the gearbox. It also pinpointed maintenance.
It said its own analysis had produced seven potential theories to explain why the main rotor detached.
"Out of these seven scenarios, only one — the failure of the attachment of a suspension bar — can be assessed as probable by Airbus Helicopters, based on the information available to date," it said.
"Analysis of the helicopter's maintenance history has just started and should provide a better understanding of the most likely causes," it added.
Operator CHC Helicopter reiterated the three areas for investigation listed in the report and warned against speculation. In early May, Airbus asked operators to check installation of the three suspension bars, but safety authorities went further and called for gearbox checks.
A spokesman for the Norwegian investigators said it was too early to say what caused the crash. "There are still many doors open and we will close them one by one in due time," he said.
(Reuters)