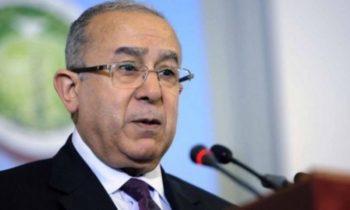 Algerian Minister of State, Minister of Foreign Affairs and International Cooperation Ramtane Lamamra called on the international community to actively contribute to the implementation of the agreements signed in Mali and Libya to end conflicts in these two countries.
"The international community should positively participate in the implementation of the Peace and Reconciliation Agreement in Mali, resulting from Algiers Process," Lamamra said in an interview with the Norwegian daily VG, to come out Monday.
The Foreign minister underlined that "the Libyan Government of National Accord, led by Fayez al-Sarraj, should be supported to help it restore peace and security in this country."
As regards the issue of migration and people's movement, Lamamra stressed the need to "join efforts to find appropriate solutions to crisis situations, with respect for human dignity."
He also insisted on the need "to distinguish between refugees and migrants," adding that "the latter must be dealt with in accordance with laws related to them."
"We must, first, create conditions of stability and development to provide hope for the youth, on the one hand, and resolve conflicts to eradicate the root causes of forced displacements, on the other hand," said Lamamra.
As regards the fight against terrorism, the Foreign minister recalled that "Algeria, which fought alone this scourge during 1990s, at a time when the world did not understand that terror threat has no border, has actively contributed to the counterterrorism efforts of the international community," adding that "the response to the global threat can only be collective."
Lamamra represented Algeria at the African-Nordic Foreign Ministers Meeting, held on 26 and 27 May in the Norwegian capital, Oslo.
Oslo Meeting brought together Foreign ministers of five Nordic countries and fifteen African countries.