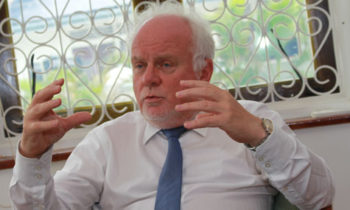 Norwegian ambassador to Sri Lanka Thorbjorn Gaustadsaether says that Norway is ready to invest in the Sri Lankan ports. "Norway is a small country.
We couldn't do huge investment like China or India. But we have a good knowledge and expertise on the marine industry. We have advanced technology. There are many sections in a port such as Energy, container transport, terminal operations and supplying ship."
"If Sri Lanka wants this kind of investment, we could contribute to that. We have advanced technology to control the environmental pollution caused by the emissions from the vessels." "Norway has a very good exposure to energy, transport and terminals. We could do investments on these sectors of Sri Lankan ports," he was quoted as saying by the media unit of the Ports and Shipping Ministry.
He said that geographically Sri Lanka is very well placed and that the country can definitely develop itself to be a very interesting spot for the maritime industry. "I see here lots of confident Sri Lankans that definitely like to take part in global value chain and global market where we could develop industries and businesses being competitive in the global market."
"Norwegian ship owners and Norwegian maritime industry are aware of Sri Lanka. Norway ships have been sailing here for more than hundred years. Since 19th century they have been sailing to Asia including Sri Lanka," he said. The Ambassador said that Norwegian ships are following the Sri Lankan marine industry very closely and that they have noted that Sri Lanka wants to have developed harbors between Singapore and Dubai. "In fact, everyone follow the maritime industry of this region.
They have attention on, is Sri Lanka good for transshipment operations? Does Sri Lanka have good docking facilities? Therefore facilities of the ports should be developed." Mr. Gaustadsaether said that in addition to the port development, enhancing every section of the ports is a very important factor.
Everyone is looking these days at the costs for logistics, shortened delay time. The Norwegian ambassador said it is very important that Sri Lanka pays attention to these factors. There will also be opportunities for Sri Lankans to be recruited by Norwegian ships, he said.
"Norwegian ships have been very well recognized by the whole world. Quite a lot of people from different countries are working in Norwegian ships. Sri Lankans could take those opportunities. If they could develop their knowledge on the marine sector, there are many opportunities."
(N.Sethu)