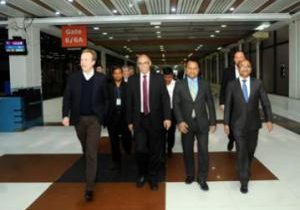 Visiting Norwegian foreign minister Borge Brende on Monday laid emphasis on creating a favorable environment for Rohingyas in Myanmar so that they can go back to their own homes from Bangladesh.
"I hope Myanmar will make it possible for these people (Rohingyas) to go to their own homes and feel safe," he said while responding to a question at a dialogue in a city hotel.
The Norwegian foreign minister thinks State Counsellor of Myanmar Aung San Suu Kyi could have done many things in protecting Muslim minorities in Myanmar.
He expressed displeasure over the 'unacceptable' way Rohingyas are being treated in the Rakhine State of Myanmar by their government and maintained that the international community needs to put pressure on Myanmar to that end.
"If you're not able to treat your minorities with dignity and inclusiveness, it shows you are lacking fundamental values," said the Norwegian foreign minister mentioning that Myanmar needs to treat minorities with the highest values.
He appreciated Bangladesh's support in hosting thousands of Myanmar nationals despite having its own challenges.
The foreign minister said Bangladesh is a country with a steady economic growth but it has lots of challenges.
Transparency is required in Bangladesh to reach the middle-income status, Brende was quoted as saying in a statement shared on official Facebook page of the Embassy.
The foreign minister used the opportunity to salute the impressive development in Bangladesh over the last 45 years.
The aim to become a middle-income country is within the reach, but Bangladesh has to ensure transparency in all sectors and scrap corruption to reach this goal, he added during a roundtable meeting with more than 50 young leaders through the Young Global Leaders network, moderated by Lutfey Siddiqi.
In addition to political talks, he met the Norwegian-Bangladeshi business community and witnessed the signing of a collaboration agreement between solar power producer Scatec Solar and the AK Khan Company.
The foreign minister arrived here on Monday as the first-ever foreign minister from any Nordic country to Bangladesh.
On his arrival, he was received by Secretary (Bilateral and Consular, Foreign Ministry) Kamrul Ahsan.
Bangladesh ambassador to Norway Md Golam Sarwar and Director General of Europe Wing of the Foreign Ministry were present.
During the visit, the Norwegian foreign minister will place a floral wreath at the Central Shaheed Minar in the first hour of February 21 to pay homage to the martyrs of the great Language Movement.
He will leave Dhaka on Tuesday, according to the Foreign Ministry here.
(prothom-alo)