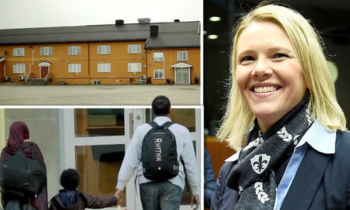 NORWAY'S Immigration Minister has lashed out against critics accusing her of failing migrant families by placing them in a closed detention centre.
Sylvi Listhaug argued it was the asylum-seeker's own actions that had landed them at Trandum, in Oslo, by either being a flight risk if their application was denied or for withholding information from the authorities.
The Immigration Minister said the closed detention centre was in place to secure that Norway had a strict, but fair asylum policy.
Lashing back at the criticism of the centre which has been referred to "as worse than jail", Ms Listhaug said: "The whole point of placing families and others with denied asylum at Trandum is so they don't disappear.
"Trandum is an important tool to maintain a strict, but fair immigration policy."
Defending the decision to keep migrant families in the closed centre, the right-wing politician added that she did not cause their predicament.
Ms Listhaug said: "I did not cause the families' situation. It is their own responsibility.
"There is even a support apparatus which helps migrants who have had their asylum applicants denied to get money for a voluntary return. Despite this, some chose to not adhere to this and so they are forcibly deported."
The Immigration Minister's call for migrants themselves to take responsibility for their futures comes after criticism from the Christian Democratic Party (CDP).
CDP called for families to be granted their own accommodation after it was uncovered that earlier this year a family, including a two-year-old toddler, had been incarcerated at the Trandum centre for 23 days.
The incident has been reported to the European Court of Human Rights.
Police in the Nordic country have been granted £10million to deport 1,800 illegal migrants by the end of 2017.
In September Ms Listhaug said that a vast sum of the annual budget would be used to return asylum-seekers who have had their claim denied.
Last year, the Police Immigration Service (PIS) expelled 7,825 migrants from the Scandinavian country.
(express)