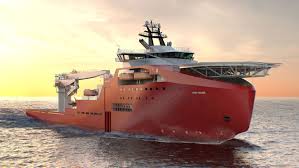 The slump in the offshore oil and gas market continued to hurt shipbuilders with mainboard-listed Vard Holdings sinking to a 53 million Norwegian kroner (S$8.47 million) loss for the second quarter ended June 20 from a 58 million kroner profit a year ago.
Vard's revenue fell 10.9 per cent to 2.22 billion kroner from 2.5 billion kroner a year ago due to reduced activity, especially at its European yards and Vard Niteroi, both for its own and subcontractor production.
Ebitda before restructuring was 11 million kroner for the second quarter and 68 million kroner for the first half-year, down from 46 million for Q2 2015 and 111 million for H1 2015.
The Ebitda margin was squeezed to 0.5 per cent in the second quarter from 1.8 per cent in the year-ago period, affected by a provision for the assumed cancellation of one vessel by a subsidiary of Rem Offshore, which is currently negotiating a restructuring plan with its main stakeholders.
Restructuring cost of 38 million kroner in the second quarter and 49 million kroner for the first half-year are related to termination benefits and statutory payments for temporary redundancies, and are mainly due to the final phasing out of shipbuilding at its Niteroi shipyard in Brazil.
Consequently, the group posted an operating loss of 78 million and 83 million kroner in Q1 2016 and H1 2016.
For the first half-year, Vard halved its net loss to 16 million kroner from 34 million kroner a year ago. This translates to a cumulative loss per share of 0.25 Singapore cents for the first six months of the year, as compared to a loss 0.51 Singapore cents the year before.
Vard said it has seen encouraging results so far from its diversification into the expedition cruise vessel market.
Over the second quarter, the group secured 19 new shipbuilding contracts for a total new order intake of 6.2 billion kroner, making it the group's best quarter in order acquisition since 2013. This orders include contracts for four luxury expedition cruise vessels for French cruise operator Ponant, signed at the end of 2Q 2016 and still subject to certain conditions.
(straitstimes)