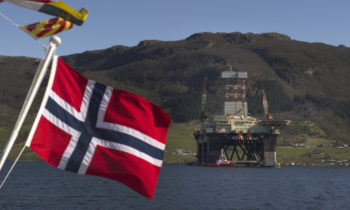 The Norwegian government will tap into its wealth fund once again to sustain government operations, as the sting of a low-priced oil market burdens the Scandinavian country, according to Reuters. Officials have used the fund once before as a rainy day fund and may continue to do so as the economy lacks the necessary revenue. The economy is expected to expand 1.0% in 2016.
As wealthy as Norway may be, its Achilles heel is a non-diversified economy that relies heavily on oil exports. Norway will have to consider diversifying its economy in major ways to lessen the shock of price fluctuations in the energy markets. Because of revenue shortfalls, the government is forced to spend additional money to plug deficit holes.
The fiscal crisis has forced policymakers to reexamine their budget priorities, but the establishment will have to commence negotiations with opposition parties that may not be ready to make concessions. In the meantime, the state has no other choice but to rely on the fund, but the nation's savings stash remains in trouble as income shortages diminish the overall value of the fund.
Norway is one of the wealthiest economies in Europe, but is not immune from a hostile oil market and an unstable world economy. Norwegians produce oil from the North Sea, while holding the world's largest sovereign wealth fund of $858 billion.
The money is used to fund entitlement programs and infrastructure projects. Leaders are also using it to combat waning private investment that exacerbates economic stagnation. Authorities revised its 2016 unemployment levels from 4.5% to 4.7%, and, while such a jobless rate may not seem bad when compared to other struggling countries, the revision is a troublesome sign within the small nation.
While Norwegians are in a much better place when compared to commodity-centered countries in Africa or Latin America, many citizens are struggling and are forced to rely on social services to a greater extent.
On the banking front, the central bank cut interest rates to spur investment, but officials need to replace lost income from the oil sector, which will not be an easy feat in the near future. As of now, Norway can use the money it has to invest in lucrative ventures that will replace a large portion of lost revenue.
The good news is that the fund has invested in other sectors outside of the oil market, such as real estate and U.S. companies, which have yielded positive returns thus far. The government is also looking into renewable energy investments as viable alternatives.