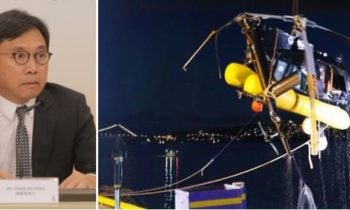 TVB chairman Charles Chan had a narrow escape in a helicopter crash in Norway a week ago when he was believed to be on vacation in the Nordic country.
The accident was not immediately reported until after bits of information were revealed in the Norwegian and British media.
The accident occurred on May 10 in Bergen, the country's second largest city, when a helicopter carrying Chan and others crashed into the sea while trying to land on a supersized yacht, said to be owned by the TVB chief.
Three men on board the helicopter, including a British pilot, were injured, according to the London Evening Standard.
The yacht, Bacarella, was made in the United States and sold to a Hong Kong-based firm affiliated with Chan for US$30 million.
Chan was discharged shortly from a local hospital while one of his friends, David Tang, a well-known lawyer in the UK, is still under intensive care but in stable condition.
TVB has declined to comment but Mark Lee, its CEO, was quoted as saying that Chan was previously on a trip to North Europe and is now back home. Chan today told Hong Kong media that there was an accident but he had nothing else to add.
Chan is known as an enthusiastic diver and skier. A source close to Chan said he flew to London first and was joined by two others for the trip to Norway.
Oriental Daily reported that while the helicopter was approaching the boat for landing, wind caused by its blades blew a carpet off and hit the helicopter. The pilot maneuvered the helicopter but it fell into the water. The three were initially trapped by their safety belts but were ultimately saved by people on nearby boats.
Chan and TVB have been at the center of a spat with the Securities and Futures Commission following accusations from the watchdog that the firm deliberately hid the real controlling shareholder in its transactions with a mainland media tycoon.
The SFC has demanded that TVB disclose all details of its shareholding structure, otherwise it would veto the share buyback plan. The broadcaster is said to have applied for a judicial review to overturn SFC's request.
(ejinsight)