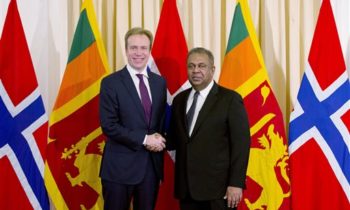 Sri Lanka is in inclement weather condition, landslides and floods due to heavy rain.
"According to the government assessments, 427,918 people belonging to 105,360 families are affected by floods and landslides as of the situation report issued by Emergency Operation Centre of DMC as of 20th May 2016.
Out of the affected, 319,507 people from 64,308 families have been evacuated to 602 safe locations. About 474 houses are reported to be fully damaged and 3,674 houses partially damaged by floods and landslides." says Ministry of Disaster Management, Sri Lanka.
Foreign Minister Mangala Samaraweera, together with the Minister of Disaster Management Anura Priyadharshana Yapa and the Minister of Health & Indigenous Medicine Dr. Rajitha Senaratne briefed the Heads of Diplomatic Missions and International Organisations based in Colombo, on the flood and landslide situation in the country, Thursday 19 May 2016 at the Ministry of Foreign Affairs.
Further, the Ministry of Foreign Affairs has established a Task Force to coordinate emergency relief assistance from Diplomatic Missions in Colombo and Sri Lankan Missions overseas, with the relevant Ministries and Agencies in Sri Lanka.
The Embassy of Sri Lanka in Norway requests all generous people in Norway who come forward to make donations in order to provide relief to the affected people, to contact the Embassy of Sri Lanka for transferring funds and also for contributing projects on reconstruction of houses and rehabilitation of flood affected people.
Email: [email protected]
Telephone: 0047-23136950
https://www.facebook.com/Embassy-of-Sri-Lanka-Oslo-Norway-145764082166605/
(N.Sethu)