Racial and ethnic terrorism, particularly white supremacist threats, are "on the rise and spreading geographically" according to a State Department report released Wednesday.
"The threat posed by racially or ethnically motivated terrorism (REMT), particularly white supremacist terrorism, remained a serious challenge for the global community," the report reads.
Nathan Sales, the U.S. ambassador-at-large for counter terrorism, told reporters radical Islamic terrorism is now a "global network that reaches every inhabited continent."
The State Department also announced Wednesday that it is increasing the reward for information related to the whereabouts of ISIS's new leader, Amir Muhammad Sa'id Abdal-Rahma al-Mawla, up to $10 million.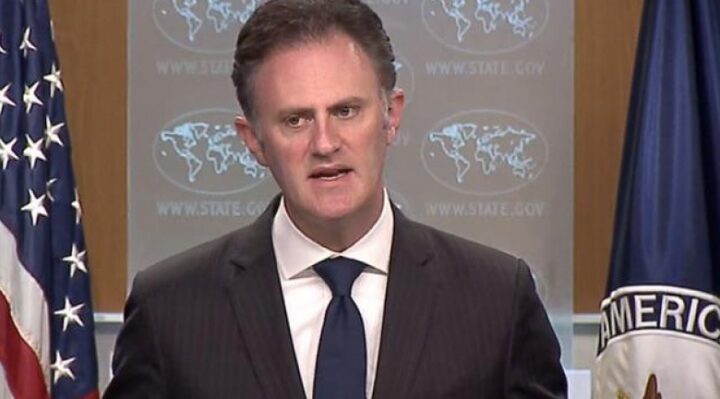 Below is a full rush transcript of the press conference with Ambassador-at-Large Nathan Sales Coordinator for Counterterrorism.
Ambassador Sales: Thanks to everybody on the line for taking the time to participate in this briefing. Today, the State Department released the annual Country Reports on Terrorism, which provides a detailed look at significant developments in 2019 in America's continuing fight against terrorist threats. In short, the United States and our partners took major strides last year to defeat and degrade international terrorist organizations.
We took strong action in 2019. In Iraq and Syria, we destroyed ISIS's so-called caliphate and eliminated its leader, a significant milestone in the fight against ISIS. Now, we're taking the fight to ISIS affiliates around the world while intensifying our efforts against al-Qaida's global network. We're particularly focused on Africa. ISIS-affiliated groups were active across the continent, including in the Sahel, the Lake Chad region, and East Africa.
As for al-Qa'ida, its African affiliates are among the world's most active and dangerous terrorist groups, including al-Shabaab in the Horn and JNIM in the Sahel. The United States is working closely with our partners, particularly France, to address these evolving threats. And we also expect the Global Defeat-ISIS Coalition to apply its hardwon expertise in this continuing fight.
It won't come as a surprise that Iran remained the world's worst state sponsor of terrorism in 2019. Through the malevolent actions of the IRGC and terrorist proxies like Hizballah in Lebanon and Kata'ib Hizballah in Iraq, Iran continued to use terrorism as a basic tool of statecraft in the Middle East and around the world. We continue to lead the world in the fight against Iranian terrorism. In April, the United States designated the IRGC, including its Qods Force, as a foreign terrorist organization. It was the first time we've ever applied such a designation to part of another government.
Throughout the year, nations in Western Europe and South America joined us in designating all of Hizballah as a terrorist group, including Argentina, Paraguay, and the United Kingdom. That work continues. Germany just banned Hizballah in its entirety a few months ago. And the Austrian parliament recently enacted legislation calling for tougher action against the group.
In our own backyard, the former Maduro regime is turning Venezuela into a safe space for terrorists, with the ELN, FARC dissidents, and Hizballah supporters all enjoying safe harbor. We also saw increasing ELN attacks in Colombia. And Cuba continued to harbor terrorists and fugitives from U.S. justice.
Let me briefly highlight a few more significant accomplishments from 2019. In September, President Trump issued an order enabling the State Department and Treasury Department to more effectively sanction the leaders of terrorist organizations and those who train for terrorism. It was the most significant expansion of our terrorism sanctions authorities since 9/11.
Another major effort was the repatriation, prosecution, and rehabilitation of ISIS fighters and family members to make sure they can never again return to the battlefield. The United States has led by example of bringing back our citizens and prosecuting them for any crimes they've committed. As of December 2019, the United States had repatriated a total of 23 Americans from Syria and Iraq – eight adults and 15 children, with six of those adults facing criminal charges.
The United States also played a major role in building our partners' capacity to detect, disrupt, and dismantle terrorist networks. We provide capabilities that no other government can match, and we want to be the security partner of choice. Our ultimate goal is to enable governments on the front lines to address the threats they face without needing to rely on the United States for continued assistance.
Early in this administration, we identified key priorities and efforts to synchronize, strengthen, and expand the actions needed to counter terrorism using all tools of national power, both civilian and military. The resulting successes are clearly reflected in this year's country reports on terrorism.
Question: I wanted to ask, a recent UN Security Council report stated that al-Qa'ida and the Taliban in Afghanistan enjoy a close relationship and that the Taliban regularly consulted with al-Qa'ida during the negotiations with the U.S., offering guarantees that the Taliban would honor their historical ties with al-Qa'ida.
Given that the Taliban breaking links with al-Qa'ida is one of the components of the U.S.-Taliban deal signed in February, have you seen any evidence of the Taliban renouncing their relationship with al-Qa'ida? And do you agree with the UN Security Council assessment of the relationship between al-Qa'ida and the Taliban in Afghanistan?
Ambassador Sales: Well, I can't comment on any intelligence matters on this call, but I can tell you that our position on this matter has been perfectly clear. We've been clear with the American people. We've also been clear with the Taliban. We expect the Taliban to honor the commitments that they made in the agreement that was announced some months ago in which the Taliban promised to end all connections with terrorist organizations in Afghanistan that threaten the United States, that threaten our people, that threaten our interests abroad. We expect them to live up to those obligations, and we intend to continue monitoring the situation very closely to ensure that actions are matching words.
Question: Is there a tendency towards growth of a terrorist – of terrorist organizations in Kazakhstan? What contributes to their appearance in a particular country?
Ambassador Sales: Well, I think Kazakhstan is really one of the world's leaders in addressing one particular terrorist problem, and that is the repatriation, prosecution, and reintegration of ISIS fighters from Syria and Iraq. Kazakhstan is really leading the world by example as it has repatriated a number of its citizens, ensured that they face justice for any crimes they've committed, and also in the case of family members put them into sophisticated and effective rehabilitation and reintegration programs.
I was in Nur-Sultan several months ago and had the opportunity to travel to one of these rehabilitation centers where I could see firsthand the good work that Kazakhstan is doing in partnership with the United States. We hope – we expect that other countries, not just in the Central Asian region but around the world, will do a better job on this issue and follow Kazakhstan's example.
Question: The U.S. has pumped a tremendous amount of counterterrorism assistance funding into Burkina Faso, but the metrics especially of late have been dismal. The number of terrorist groups, attacks, fatalities have all exponentially spiked. I really just wanted to ask what happened ?
Ambassador Sales: West Africa and the Sahel is an area of increasing concern for us and the United States but also for a number of our partners, particularly France. What's happening in the Sahel – and it's not just in Burkina Faso; it's also Mali and other countries in the region – it's sort of a perfect storm of central governments that don't always have complete control over their territory. We see porous borders that have been exploited for centuries by criminals, by smugglers, that terrorists are also able to exploit.
France has played a leading role in helping to boost the military capabilities of some of those states on the front lines, and we've been working closely as well with those states to boost their ability to, for instance, investigate and prosecute terrorist offenders, to build crisis response teams that can put down terrorist assaults in real time as they happen, to strengthen border security, and so on.
It's still very much a work in progress, but what our goal is, is to ensure that these states on the front lines, Burkina Faso and elsewhere, have the tools they need to confront the terrorist threats they face on their own and to do it, by the way, in a way that is fully consistent with the rule of law and human rights. It's a false choice to suggest that one must choose between defeating a terrorist adversary and respecting the rule of law. The American experience and the experience of many of our Western partners since 9/11 demonstrates that these two efforts go hand in hand.
Question: I'm curious as to how closely the State Department and U.S. counterterrorism folks are watching far-right extremists who have gone to fight or are currently fighting in the war in Eastern Ukraine ? I know from years of reporting on the war that it has become a playground for Western extremists, including many American men who have fought with far-right groups and have cozied up to one whose political wing, the National Corps, was designated a nationalist hate group by the State Department. So my question is how do you track these individuals there and when they return to the U.S.? How big of a threat do you believe they pose abroad and upon returning home? And are you concerned at all by the far-right groups in Ukraine who are attracting so many Westerners?
Ambassador Sales: We are concerned at the State Department and throughout the Trump administration about the threat posed by what we call racially or ethnically motivated terrorism, particularly white supremacist terrorism. This is a trend that really began to take off globally in 2015, and this administration has mobilized resources like no predecessor administration ever has to confront this threat.
Some time ago, the State Department announced the designation – the terrorist designation of the Russian Imperial Movement, which is a St. Petersburg-based white supremacist group that has trained people to commit acts of terrorism in Scandinavia in particular. This was the first time we had ever used our sanctions authorities, our terrorism sanctions authorities, to designate a white supremacist terrorist group. And we are using other tools as well, such as counter messaging, information sharing, border security, and other tools from the standard counterterrorism toolkit.
When it comes to Ukraine in particular and Russia-instigated conflict in the East, we are tracking very closely reports of white supremacist fighters on both sides of the conflict. Certainly, any connections between white supremacists or other terrorist groups overseas and American citizens here at home is a matter of grave concern, and we want to make sure that we are using all possible tools of national power to degrade international terrorist groups that seek to reach here into the homeland.
Question: Is it a coincidence that you launched this report today at 8:30, had the Secretary of State at the podium at 10 o'clock, half an hour before President Filipe Nyusi of Mozambique was delivering his speech at the Corporate Council on Africa? So that's my one question. But then again, at the same time, Mozambique itself does not have an action plan on countering violent extremism. Are you working with them, or do you have any plans to train Mozambique on security, as the U.S. has done in years past?
Ambassador Sales: On Mozambique in particular, as you know, Mozambique has in recent months suffered greatly from increasing activity by ISIS-affiliated and ISIS-inspired terrorists in the northern part of the country in Cabo Delgado. It's something that we are gravely concerned about and we are taking a close look at to see how we can assist.
I can tell you that the United States does counterterrorism capacity building like nobody else in the world. We don't just parachute in, kill some bad guys, take some money and leave. What we do is make sustained and durable investments in the capabilities of our local partners to ensure that they are able to do in their homelands what we do in our homelands: investigate and prosecute criminals, secure the borders, crack down on terrorism financing, and advance counternarratives to prevent terrorist radicalization and recruitment. So we are well aware of the increasing threat levels in Mozambique and looking at ways that we can assist.
Question: Since January, the French army is leading an offensive in the Sahel against terrorist groups like IS-Greater Sahara or JNIM. What's your appreciation of the situation? How far is ISIS-Greater Sahara weakened? Regarding al-Qa'ida, what could be the consequences in the Sahel of the death of Abdelmalek Droukdel?
Ambassador Sales: We think the French are doing an extraordinary job in the Sahel and in West Africa more generally. We think that it's necessary to continue military pressure of the sort that Operation Barkhane is bringing to bear under French leadership. But it's also important to continue our efforts to boost the civilian counterterrorism capabilities of these frontline states. And that's something the United States has been doing and will continue to do here at the State Department.
In addition, I think it's also important to emphasize the need for other global counterterrorism platforms to play a role here. Secretary Pompeo has previously indicated our intent to convene a meeting of the global Defeat ISIS Coalition to focus on threats in West Africa, not only in the Sahel but the risk that conflict there might spill over into the Gulf of Guinea littoral states like Senegal and its neighbors. We need to make sure that we are confronting these threats, not allowing them to metastasize across the continent.
We celebrate France's recent operational success in removing Droukdel from the battlefield as the leader of al-Qa'ida in the Islamic Maghreb. Droukdel oversaw one of al-Qa'ida's most dangerous and lethal affiliates. The United States military was proud to provide information and coordinate with the French military to help ensure that that operation was a success.
Question: Funding terrorism is one of the biggest issues in the world that keeps terrorist groups alive with billions and billions of dollars, and they would not have gotten that money without some countries' help. What has the U.S. done to counter that issue and hold those countries accountable? Some of those countries have good relationships with the U.S. and have been accused of funding terrorism."
Ambassador Sales: Well, countering the financing of terrorism is one of our most important tools. We don't just want to stop the bomber; we want to stop the moneyman who pays for the bomb. And sometimes the moneyman is a state, and Iran is the world's worst example of that. Over the years, Iran has invested hundreds of millions of dollars into supporting and bankrolling its terrorist proxies around the world. And that tells you something about what the regime's priorities are. It's not addressing unemployment. It's not addressing infrastructure. It's not providing a better life for its youth population. It's terrorism, full stop.
This administration has imposed historically severe terrorism-related sanctions on Iran to prevent it from continuing to spread bloodshed around the world, and we're seeing great results. Not too long ago, the head of Hizballah, which is Iran's most prominent terrorist proxy – the head of Hizballah issued a public plea for donations because it can no longer count on the same level of financial support from its masters in Tehran. Hizballah has had to resort to public pleas for fundraising assistance.
So the United States is well aware of the need to counter terrorist finance. We have led those efforts using our unilateral authorities, also by designating individuals at the United Nations to make sure that the entire international community is honoring its obligations to crack down on terrorist finance.
Question: Can you elaborate the counterterrorism activities in Southeast Asia, especially in Baluchistan, Pakistan, India, Sri Lanka, and other countries, you know, how U.S. is collaborating with other countries?
Ambassador Sales: We work very closely with countries in South Asia and Southeast Asia. A good example of this is in 2017 we worked extremely closely with the Philippines to help address the ISIS activity that resulted in the fall of Marawi. And since then, now that the kinetic phase of that campaign has been successful, we have continued our work with the Philippines to bolster their civilian capabilities – aviation security, counterterrorism finance, border security, law enforcement cooperation. Those are just several examples of the work we are doing in the region.
When it comes to South Asia in particular, this is an environment that is facing a very complex terrorism landscape. Afghanistan has suffered from attacks in recent months by ISIS-Khorasan, including a truly ghastly attack on a maternity hospital some months ago that killed a number of women and infants in what must go down as one of the most appalling terrorist crimes the world has ever seen.
India has suffered a number of terrorist attacks, and it's important to ensure the perpetrators of attacks like the Mumbai assault over a decade ago are held fully accountable and that terrorism finance measures are put into place to prevent funding of those sorts of attacks.
The Easter Sunday attack in Sri Lanka was a graphic and vivid illustration of how the ISIS threat around the world is evolving. That was an attack – it was inspired by ISIS ideology, not something that was directed or controlled by a hierarchical centrally-directed organization. And so as ISIS has lost its so-called caliphate in Syria and Iraq, we have to be mindful of the need to adapt as well and be prepared to address threats of ISIS-inspired attacks from around the world.
Question: Has Sudan formally sent a written declaration that it will not support acts of international terrorism in the future as part of the potential rescission process?
Ambassador Sales: So I can't comment on diplomatic exchanges that are happening between the United States and any other government, but what I can tell you is that the legal and policy requirements for the United States to consider rescinding Sudan's status as a state sponsor of terrorism are perfectly clear. Legally speaking, any country that wishes to be removed from the SST list has to provide credible assurances that it will not support terrorism in the future. And in the particular case of Sudan, it has been a requirement for the United States that victims of terrorist attacks that were enabled by the previous Bashir regime must be compensated for the injuries they've suffered.  
We have been working very closely with the civilian-led transitional government in Khartoum, which we want to see succeed.  This is an opportunity for the people of Sudan to move past the dark days of the Bashir dictatorship and move towards democracy and the protection of human rights, and at the same time we want to make sure that American victims of the Bashir regime's terrorist – the Bashir regime-era terrorist attacks receive the compensation they're entitled to.
Question:  I recently read in a comment in the U.S. that with the onset of the pandemic, the post-9/11 era, the era of counterterrorism, is finally behind us, that we are now in a new era.  Do you agree with that?  Can you comment on that? 
Ambassador Sales:  I think terrorist groups have a vote on whether the terrorist threat is over, and they're voting no.  The world is rightly investing an enormous amount of energy and resources into combatting this pandemic, the United States included.  But as we address this public health crisis, we're also maintaining our focus on the terrorist threats that we continue to confront, and it's a complex and diverse landscape. Al-Qa'ida remains a global force with its networks and branches around the world.  ISIS has lost its physical caliphate, so-called caliphate, but it is still active through its branches and affiliates around the world.  Iran is the world's worst state sponsor of terrorism.  And that is why the measures that we outline in the Country Reports on Terrorism are so important – using military force where needed, using civilian counterterrorism capabilities where appropriate.  We're using all the tools of national power to defeat and degrade our enemies.