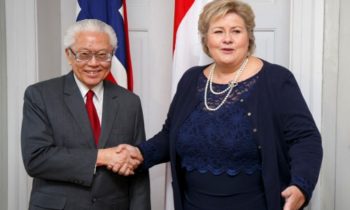 Ten collaborative agreements between Singapore and Norway were signed at the Research Council of Norway on Tuesday (Oct 11), covering areas such as educational exchanges, renewable energy and urban solutions.
The agreements enable Singapore to tap on Norway's expertise to develop new technology and solutions.
The signings were witnessed by Singapore President Tony Tan Keng Yam during his six-day state visit to Norway.
One such collaboration is between the National University of Singapore (NUS), the Foundation for Scientific and Industrial Research (SINTEF) and the Norwegian Maritime Technology Research Institute (MARINTEK). The three will embark on a research project to develop large floating structures that could be used as a storage facility or even as housing.
The project will be supported by the Land and Liveability National Innovation Challenge Grant awarded to NUS by the National Research Foundation. It will be co-funded by JTC Corporation.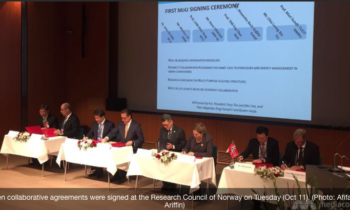 One expert said the use of such technology could be implemented within the next decade.
"Their technology in terms of being able to create structures that are able to withstand very high sea waves, as well as be very durable, will be a bonus to us as we collaborate together," said Professor C M Wang, director of the faculty of engineering at NUS. "So we hope to surprise Singaporeans in due course with exciting projects for storing all kinds of materials in the sea as well as even creating habitual settlements and houses on a sea space."
On the third day of his state visit in Norway, Dr Tan also met with Norway's Prime Minister Erna Solberg, who was recently in Singapore for the Norway-Asia Business Forum.
They spoke about deepening bilateral ties and forging fruitful economic collaboration.
"These agreements will pave the way for greater educational exchanges between our youths and enhance the collaborations between our scientists and researchers, including partnerships in the environmental sector in areas such as Research and Development in water technologies and carbon mitigation measures," said Dr Tan.
The Singapore President also spoke about learning from Norway in other areas such as their early childhood programmes, as well as their marriage and parenthood policies.
Dr Tan will be in to Tromso, the Arctic capital of Norway, on Wednesday. He will meet with researchers from the Norwegian Polar Institute where Singapore hopes to reaffirm its position as an observer in the Arctic Council.
Despite Singapore's geographical distance, it still has a vested interest in developments in the Arctic region. As a low-lying coastal nation, the city-state is especially vulnerable to rising sea levels.
(CNA/ek)