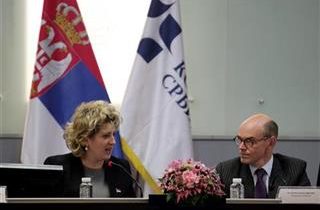 Bringing people and business enterprises together, taking bilateral economic cooperation to a higher level and seeking new possibilities, new markets and new projects are the goals of the Serbian-Norwegian Business Forum (SNBF), which began in Belgrade Thursday.
At the promotion of SNBF at the Chamber of Commerce and Industry of Serbia (PKS), Norway's Ambassador Arne Sannes Bjornstad stressed that he sees huge potential in enhancing the economic cooperation between Serbia and Norway.
PKS Vice President Mihailo Vesovic said that the Serbian-Norwegian economic cooperation is far below its potential and that he believes that the activity of the SNBF will strengthen bilateral economic and trade relations, promote Norway as an export market for Serbian goods, as well as promote Serbia as an attractive destination for Norwegian investors.