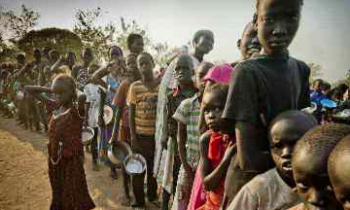 South Sudan's leaders have inflicted a massive humanitarian crisis on the population threatened by a famine and the war must end, the Norway's foreign minister, said on Tuesday.
Borge Brende, in interview with Media, said South Sudan is "one of the world's biggest humanitarian disasters," affecting 5 million people.
Describing the crisis in South Sudan as "man-made", Brende said solutions must include an agreement with armed opposition groups.
The Norwegian foreign affairs minister, among others, called for a worldwide ban to stop "the flow of weapons" into the war-torn East African country.
Since 2013, South Sudan has been embroiled in a civil war that has killed tens of thousands of people and displaced nearly two million.
About 100, 000 people are at risk of famine, three United Nations agencies said recently, and that up to 5 million people or more than 40% of the country's populations are need urgent of food assistance.
Years of civil war, a refugee crisis and a collapsing economy have taken a toll on South Sudan since it gained independence in July 2011.
(N.Sethu, ST)