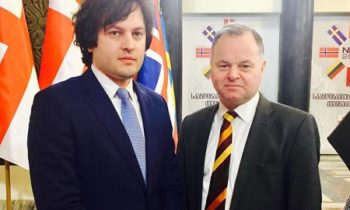 Olemic Thommessen, the President of the Norwegian Parliament says he is impressed by what Georgia has achieved over the past few years in fighting corruption and implementing reforms.
Thommessen spoke at a joint press conference with heads and high-ranking officials from the parliaments of the Nordic and Plastic countries and Georgia in Tbilisi yesterday.
"Georgia is on its way to becoming a true member of the European project", he said.
"Rome was not built in one day and neither is Europe. We all have different ideas of what the future of Europe should be all about", he said and added that he highly appreciates the contribution of Georgia to global security.
"I also would like commend Georgia for its contribution to NATO in Afghanistan and I think this is a brilliant example of how to work on practical, concrete things that show the Georgian determination to be part of European institutions and NATO".
He added that being a member of the European Union is not the only way to enjoy benefits of the European project.
"Coming from a non-EU country – Norway is not member of the EU – I can promise you that there are also other ways to involve oneself in the European project", he said.
(N.Sethu)