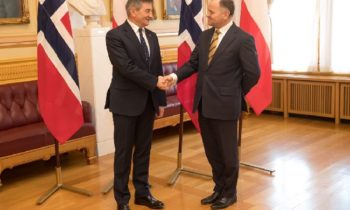 Polish Parliamentary Speaker Marek Kuchciński opens a two-day visit to Norway on Tuesday, at the invitation of Olemic Thommessen, President of the Norwegian Parliament.
The programme of the visit includes talks with members of the Norwegian parliamentary commissions for foreign affairs and defence, as well as the heads of the Norwegian parliamentary delegations to the Parliamentary Assemblies of NATO, the Council of Europe, the Organisation for Security and Cooperation in Europe and the Joint Parliamentary Committee of the European Economic Area.
Kuchciński is also to discuss energy security, Eastern policy and bilateral economic cooperation with Prime Minister Erna Solberg and King Harald V.
The programme of the visit also includes a meeting with the Polish community in Norway and a wreath-laying ceremony at the memorial and graves of Polish WWII airmen and other Poles who lost their lives on Norwegian territory in 1940-1945.
(mk/rg)