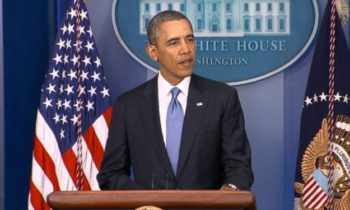 His fellow Democrats may be arguing about whether to hold up places like Denmark and Norway as liberal utopias, but President Barack Obama isn't hesitating.
Apparently well past concerns about being branded a socialist, Obama on Friday celebrated five Nordic nations as models of reliability, equality, generosity, responsibility, even personal happiness.
As he welcomed a group of Nordic leaders to the White House, he owned up to thinking perhaps the small, havens of social liberalism should take the reins every now and then.
He joked: "Why don't we just put all these small countries in charge for a while."
The remarks opened a White House summit with the leaders of Norway, Sweden, Finland, Iceland and Denmark. Obama and the leaders are due to discuss a slate of issues weighing heavily on the region — including concerns about Russian aggression, long-term plans for managing the flow of refugees in Europe and contributions to the campaign against the Islamic State group in Iraq and Syria.
The White House is casting the rare multilateral summit as something of a diplomatic walk in the park compared to recent, more contentious sit-downs in the Middle East, or even Europe. Where Obama often is tasked with nudging reluctant partners to contribute more to international partnerships, the Nordic leaders, he said, are willing partners and ready to "punch above their weight."
Norway, Sweden, Finland and Denmark are part of the U.S.-led campaign against the Islamic State group. Denmark and Norway each have contributed nearly as many troops on the ground in Iraq as Germany.
That campaign will be a large part of the conversation Friday. White House official have said the leaders planned to discuss additional contributions to the fight, as well as funding for the struggling Iraqi government.
Despite their deep-rooted socialist traditions, four of the five Nordics are currently run by center-right governments, and Obama noted their commitment to free trade and free markets.
The American leader, however, avoided any in-depth remarks on the migrant crisis plaguing Europe, which has severely tested the limits of traditional refugee havens Denmark and Sweden.
Sweden, a nation of almost 10 million people, tightened its borders after receiving 160,000 asylum requests last year alone. In the U.S., that would equate to some 5 million prospective immigrants, many from war-ravaged Syria, Iraq and Afghanistan. The U.S. is currently struggling to meet a target of 10,000 Syrian refugees this year.
Charles Kupchan, director for European affairs at the National Security Council, said the leaders would likely discuss a long-term and "systematic" plan for managing migrant flows in Europe.
The meeting comes during a U.S. political season in which the Nordic countries have made surprising cameos. Democratic presidential candidates Bernie Sanders and Hillary Clinton have publicly debated whether Denmark, Sweden and Norway should be a model for the U.S. policy on worker's rights and paid family leave. Clinton notably dismissed the notion in a debate last year, declaring "We are not Denmark."
Republicans' standard bearer, Donald Trump, has suggested the U.S. should be detangling itself from the sort of international partnerships that Obama and Nordic allies readily embrace.
Obama's position in the debate was unequivocal.
"The world would be more secure and more prosperous if we just had more partners like our Nordic partners," Obama said, as he stood with the lineup of leaders, including Sigurdur Ingi Johannsson, the new prime minister of Iceland; Lars Loekke Rasmussen, prime minister of Denmark; Stefan Lofven, prime minister of Sweden; Erna Solberg, prime minister of Norway; and President Sauli Niinisto of Finland.
Making light with his five guests, Obama referenced a Nordic tour of clichés. He noted how Americans of Nordic descent took with them their wooly sweaters and the lye-cured fish Lutefisk, while children across the United States read Hans Christian Andersen's tales and Astrid Lindgren's Pippi Longstocking, summarizing Nordic-U.S. interaction from the explorations of Leif Erikson to the pop music of Abba.
True to form, the Nordics agreed to share the role of speaker throughout the day of festivities.
Following Obama in the White House's Grand Foyer, Finnish President Sauli Niinisto stressed that the region as a whole is in some ways a "superpower." It would amount to the 12th biggest economy, and one that leads on pressing problems like climate change, which he called "the most existential threat in the world today."
As the only woman leader present, Norwegian Prime Minister Erna Solberg thanked first lady Michelle Obama for improving access to girls' education, an objective she said they shared "as women, as mothers and leaders."