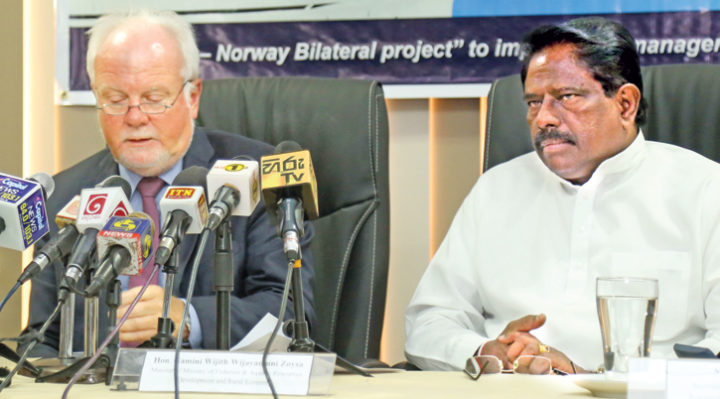 The government of Sri Lanka distributed drinking water at a very low price and giave priority to the investments made with the participation of government and private sector, SL Minister Rauff Hakeem said.
Minister Hakeem made these observations during a discussion with Norwegian delegation led by Norwegian State Minister Jency Frolin who called on City planning, Water Supply Minister and Sri Lanka Muslim Congress Leader Rauff  Hakeem at his office in Parliament.
During the discussion Minister Hakeem added that he paid much attention to protect the river basins and to identify new springs and get maximum benefit from them by developing them.
"Special plans are being drafted to keep the underground water clean and to purify the sea water as drinking water. As well as funds are pumped towards free education and health service, we also allocate funds to eliminate poverty", the Minister added.
Minister Hakeem brought to the attention of Norwegian delegation that while earning foreign exchange through tourism industry, handloom textile industry and fish export, the present Government had implemented various projects to achieve economic development.
Norwegian Ambassador in Sri Lanka Thorbrorn Gawustadset said that the Norwegian Government will pave opportunities through the tour of Norwegian State Minister for the Norwegian bilateral cooperation between Sri Lanka and Norway, to address the environmental challenges and to promote the marine industry.