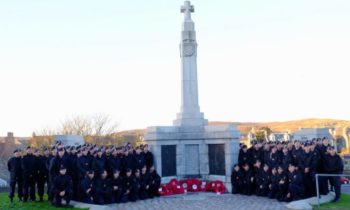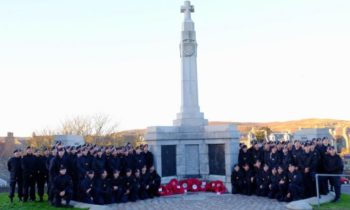 A group of Norwegian sea cadets have been visiting the isles as part of a tour onboard the sail-training vessel, Statsraad Lehmkuhl.
The class of 77 from the Royal Norwegian Naval Academy this week paid tribute to those lost in the in Second World War with a ceremony at the Lerwick War Memorial.
During its tour the group has taken the name Uredd, after the Norwegian submarine crew of P41 Uredd, which was believed to have been sunk in a German minefield in February 1943.
Crew-member Renate Back Brandvik said the cadets were eager to honour the memory of the submarine's crew after hearing her last port was Lerwick.
Prior to their arrival in the isles the crew were on a traditional cadet's leadership course which saw them sail from Norfolk, USA, across the Atlantic.
Their stop-off in Lerwick comes ahead of their return to Bergen.
But they have made it this far in record time.
"On our way over here from Norfolk we participated in the Boston Tea Pot Challenge, where we were supposed to go by sail as far as possible within 124 hours.
"The old record was 1,462 nautical miles in 2013. This year we broke that record with no less than 1,555 nautical miles in the same amount of time, which we are extremely proud of."
(shetland times)
• Photo courtesy of Shetland Islands Council.