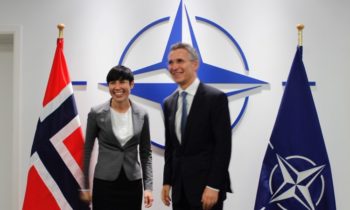 Norway urged U.S. President-elect Donald Trump to adopt a clear and predictable policy on Moscow at a time of heightened tensions in Europe due to Russian aggression in Ukraine and the growing presence of Russian military activities in the Arctic region.
"What is most important to us right now is to have both a predictable and a very clear policy on Russia," Norwegian Defense Minister Ine Eriksen Soereide told Reuters Friday, ahead of the annual Reagan National Defense Forum in California. "The earlier and the clearer that the new administration comes out with this, the better it is, also for European security."
On the campaign trail, Trump had said he was open to working closely with Russian President Vladimir Putin. Putin had called Trump to congratulate the real estate mogul on his victory, during which the two leaders agreed to take steps to improve Moscow's ties with Washington.
Norwegian Prime Minister Erna Solberg also spoke to Trump Thursday voicing her concerns about Trump's comments on Russia and his take on the North Atlantic Treaty Organization, which he called "obsolete" and also threatened to withdraw U.S. funding for NATO.
During the call, however, Trump reassured Solberg of U.S.'s commitment to NATO and security in Europe.
Oslo is concerned about Russia's latest improvements to its defense system, including testing news missiles, upgrading existing equipment and using quieter submarines which are more difficult to detect. U.S. and NATO officials said this high level of Russian submarine activity was last seen during the end of the Cold War in the 1990s.
"They are effectively capable now of closing off allied reinforcements, which of course is a huge strategic challenge," Soereide said.
Russia taking over the GIUK gap – the maritime line between Greenland, Iceland, and the United Kingdom which was a defensive perimeter for NATO during the Cold War – would prove to be an obstacle for NATO forces to step in to help Norway in event of a conflict.
Meanwhile, Oslo is also upgrading its defense system with the proposed addition of five Boeing Co P-8A maritime surveillance planes that would help Norway track Russian submarines. Oslo is working closely with London in monitoring the situation.
"They have been reestablishing their 'bastion' defense concept," Soereide said referring to a strategy adopted by the Soviet Union during the Cold War in which Moscow heavily defended maritime areas like the Barents Sea. "They have to a great extent shown that this area is strategically even more important to the Russians now than it used to be."
Sweden, like Norway, is also increasingly worried about perceived Russian aggression in the region, internal Swedish documents revealed. Stockholm has not ruled out a possible threat of the use of military force by Moscow. Meanwhile, 16 European countries led by Germany are working together to push for a new arms control agreement with Russia in the hopes of preventing an arms race in Europe given the heightened tensions.
(ibtimes)