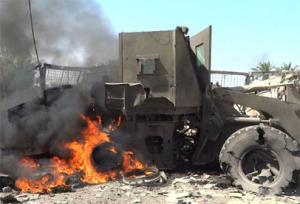 Norwegian Refugee Council warns 'human catastrophe' is unfolding in Iraqi city, renews call for safe corridors to be opened to prevent massive civilian loss of life.
The siege of the jihadist-held Iraqi city of Fallujah and the 50,000 civilians believed trapped inside it is a catastrophe in the making, the Norwegian Refugee Council warned on Tuesday.
Its secretary general Jan Egeland renewed a call for safe corridors to be opened to prevent massive civilian loss of life.
"A human catastrophe is unfolding in Fallujah. Families are caught in the crossfire with no safe way out," he said in a statement.
"For nine days we have heard of only one single family managing to escape from inside the town. Warring parties must guarantee civilians safe exit now, before it's too late and more lives are lost," he said.
Iraqi forces launched an operation on May 22-23 to retake the Islamic State group bastion, which lies only 50 kilometres (30 miles) west of Baghdad.
Since then, only one of the more than 550 families who have managed to flee IS rule in the area were from the centre of Fallujah.
Besieged by pro-government forces numbering in the tens of thousands, the jihadists are preparing for a bloody last stand and are suspected of using civilians as human shields to slow the government advance.
NRC runs camps in Amriyat al-Fallujah, a government-controlled town south of Fallujah, where fleeing civilians are given shelter and assistance.
With elite Iraqi forces now attempting to push towards the city centre, the fighting is expected to intensify.
The aid effort across Iraq and Syria is massively underfunded but Egeland appealed for emergency funding to meet the immediate needs of the most vulnerable people from Fallujah.
"There isn't enough safe drinking water and the situation will quickly worsen with summer around the corner, and temperatures likely to hit over 50 degrees Celsius (122 degrees Fahrenheit)," he said.
"The international community must urgently provide funding so that we can help the most vulnerable people."