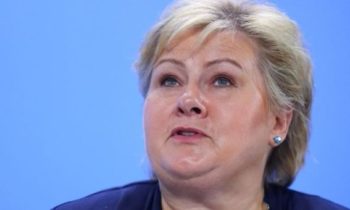 Kare R. Aas, Norway's ambassador to the United States, described the United States as "Norway's closest ally," in an interview with VOA.
Norwegian Prime Minister (PM) Erna Solberg looks to strengthen ties during a scheduled meeting with U.S. President Donald Trump.
According to the White House, Trump and Solberg will discuss shared defense and security goals within North Atlantic Treaty Organization (NATO), the global coalition to defeat Islamic State extremists and trade and investment.
Solberg's government recently agreed to host 300 U.S. Marines on a six-month rotational basis for training – a trial that started in January 2017. The soldiers will "learn to ski, fight and survive in Arctic cold," according to the Marine Corps Times.
Kare R. Aas, Norway's ambassador to the United States, described the United States as "Norway's closest ally," in an interview with VOA. "Our basic and main foreign policy priority is, first of all, maintain our security through NATO; it's very important for my country to continue to build on the strong cooperation we have with the United States in areas of security and defense," he added.
Both the United States and Norway are considered Arctic countries.
In November, U.S. Secretary of State Rex Tillerson said the Arctic region was "important today … increasingly important in the future, particularly as those waterways have opened up."
But he also conceded that the United States is "behind all the other Arctic nations" in paying attention to the region's growing importance.
"The Russians made it a strategic priority. Even the Chinese are building icebreaking tankers. Now, why are they building icebreakers? They're not an Arctic nation. Because they see the value of these passages," Tillerson commented.
On Tuesday, the PM said she had hoped that Brexit would tie Britain "as close as possible" to the single European market.
"Of course we hope for Brexit that connects the British … as close as possible to the single market. That will be the easiest way to work together in the future," Solberg told Reuters on the sidelines of a business conference.
"If not we are prepared to negotiate in all of the areas. We feel we have a good cooperation both with Britain and the EU," she added.
Norway, which has a population of 5.3 million people, is not a member of the EU. But, the head of the Scandinavian nation expressed openness to negotiating any policy area that was excluded from an eventual agreement between the EU and Britain.
Norway is western Europe's top producer of oil and gas, and has an intricate network of pipes for transporting its natural gas to Britain, Germany and other European nations.
"I don't think it affects the energy sector for the cooperation in our gas trade," she added.
Last month, Tillerson met with NATO Secretary-General Jens Stoltenberg, a former Norwegian prime minister, and praised his leadership of the organization.
Norway moves to add 50-plus F-35As at a cost of close to $100 million each to its armed forces.
(telesurtv)