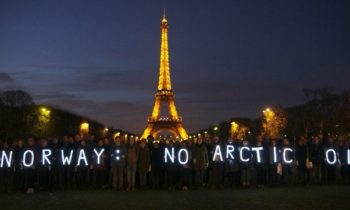 Oslo District Court approved Norway's plans for more oil exploration in the Arctic last Thursday, dismissing a lawsuit that claimed it violated the people's constitutional right to a healthy environment.
The government acts in accordance with the law when awarding new petroleum exploration licenses for the Barents Sea, the court ruling stated.
The case, brought by Greenpeace and Nature and Youth, argued that a 2015 oil licensing round in the Arctic violated Norway's constitution. The government's lawyers argued that the case was a publicity stunt that would cost jobs if it was successful.
The court ordered the environmental groups to pay the state's legal costs of around $71,000. "We disagree with the court ruling," says Ingrid Skjoldvaer, head of Nature and Youth. "The climate can't deal with more oil. That is a fact climate scientists agree on. Norway's oil politics fail my generation and threaten my future."
Greenpeace said it would decide whether to appeal within the next two weeks. The organization hopes there will be further law suits around the world, because around 100 nations have constitutions which guarantee a safe environment.
Norway is Western Europe's largest producer and exporter of oil and gas. Local media reports indicate that the court dismissed the environmentalists' arguments that Norway should be responsible for greenhouse gas emissions from oil and gas exported to other nations, rather than just from exploration and drilling off Norway. The court also said the risks of Arctic drilling were limited.