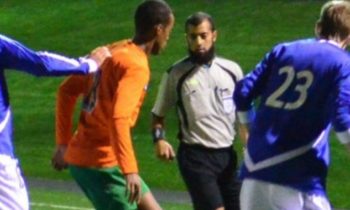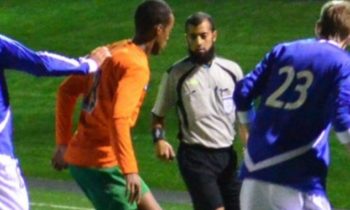 An Islamist football referee in Norway has been convicted of hate speech after apparently threatening to shoot Jews for complaining about anti-Semitism, a prominent English language news outlet in the country reported on Friday. Norway's media said Ubaydullah Hussain (pictured on the football field above) was sentenced to 120 days in prison after posting the following remarks on his Facebook page when, in 2012, Jewish groups in the capital city of Oslo asked for increased protection from the police following a rise in anti-Semitic incidents across Norway:"I will give them protection, inshallah, just as soon as I pass my hunting test and get myself an AK-47," he said. It appears that the court did not think he was offering his services as a bodyguard.
He was simultaneously convicted for an email to Nina Johnsrud, a journalist at the Dagsavisen newspaper who had written an investigative report about Islamists in Norway.
"This article has been noted by both known and unknown brothers.. and it has not been well received. That you pry into people's private lives has set minds ablaze. And you shouldn't be surprised if someone or something crops up in your private life too — with words or actions, I don't know."
Hussain had added that he was not making a threat, merely a "friendly warning". The court was not convinced.
However, Hussain was acquitted of hate speech for saying a Somali lesbian activist — Amal Aden — deserved to be stoned to death.
He has been fired as a referee on the grounds that he can no longer be considered "impartial".