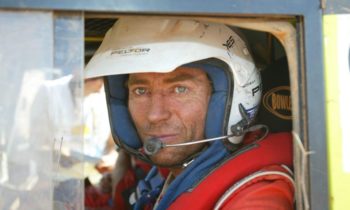 When news broke in the Norwegian press in December identifying the buyer of one of Oslo's most iconic buildings, journalists began calling. They were desperately trying to get a comment from Ivar Tollefsen, the buyer of the building, which was the former U.S. embassy, designed by the same architect who did the Gateway Arch in St. Louis. But he couldn't be reached that day, nor for the next week. According to a spokesperson, Tollefsen was stuck in bad weather on a mountain face off Gessner Peak in Antarctica, where temperatures drop as low as -22 °F.
"It's insanely cold, especially as you only move up about 50 meters a day, so you're not very active," Tollefsen later says about the experience.
Norway is long on colorful billionaires. The three youngest in the world with three-comma fortunes are all Norwegians.  Former fisherman Kjell Inge Rokke recently placed an order for what will become the world's largest yacht. Hotel conglomerate owner and triathlon athlete Petter Stordalen performs Houdini-like escapes from water tanks in front of his employees.
But Tollefsen, a self-made billionaire who joins the ranks of the World's Richest for the first time this year, already stands out thanks to his passion for adventure. He set the world record for fastest crossing of Greenland on skis in 1991. After his time was bested, he was determined to do better. Setting out to reclaim his title in 2016, at the age of 55, he raced across the icy landscape in just 6 days and 20 hours, beating the record by 14 hours.
He also competed in the 2009 Dakar rally, a grueling 6,000-mile race that is one of the world's most popular and dangerous; several drivers were injured and one driver died in the 2009 race. Tollefsen finished fourth, still the best result ever for an amateur driver.
Tollefsen, now 56, grew up in a row house in Asker, on the outskirts of Oslo. The oldest of three siblings and the son of parents who had no formal education, he started a paper route at age 12. Two years later, he would wake up at 3:30 a.m. six days a week to deliver his papers on his then four routes. With the money he pocketed, he bought a stereo system and started DJing at neighborhood school parties. Before long Tollefsen was touring Norway as a DJ and making enough money that he decided to skip high school and put all his energy into his party business.
"I wasn't a great DJ, but I was good at organizing others," he says.
The company, called Tollefsen Enterprises, soon morphed into a party consultant and supply business that designed clubs and leased DJ-services and equipment. He caught the eye of investment firm Vest Invest which in 1985, when Tollefsen was 23, bought the company in a stock deal worth millions (Tollefsen says he doesn't remember what the deal was worth, but that his shares at one point were worth NOK 20 million, or $2.8 million). The value of the stake evaporated just three years later when Vest Invest went belly up.
He was back to zero but not out of ideas. Tollefsen had for years been an active polar explorer, and in 1993, he says that he led some of the first expeditions to climb mountains in Antarctica. Intent to capitalize on his outdoor achievements, he published three books about the topic between 1992 and 1997, coupled with well-attended book talks.
In 1994, with $120,000 (NOK 900,000) he mustered from book sales, he purchased his first piece of property. His timing was good: real estate values in Norway had plummeted following the banking crisis of the early 90's.
With the NOK 900,000 in equity, he applied for a loan and bought a building, with 20-apartments, in central Oslo for $820,000 million (NOK 6.15 million). Tollefsen estimates that it's now worth about 13 times what he paid for it. As he built equity, he borrowed more and purchased more buildings.
Today his Fredensborg AS, together with subsidiary Heimstaden AB, is one of the largest owners of rental housing in Scandinavia. It rents out 27,000 apartments across Norway, Sweden and Denmark. One of his 2-room apartments in Oslo typically rents for $1,500 a month.
The property markets in Scandinavia are booming, especially in Sweden. Tollefsen is just the latest real estate developer in the region to reach billionaire status. Erik Paulsson and Erik Selin joined the FORBES billionaires' ranks in 2017 and 2016, respectively. Both built fortunes in Swedish real estate.
The hot market has led to concerns about how Swedes and others are financing their purchases. Both households and many real estate firms have taken on a lot of debt, worrying experts of what will happen if property prices go down. For someone like Tollefsen, who owns solely rentals, a market downturn would severely affect his business — and his net worth.
Tollefsen is hesitant to make any predictions but says he thinks his company Fredensborg is well positioned, owning housing that will always be in demand. Plus, he says, it's a solid industry in which to invest. "Unlike many other industries, housing will not be digitalized. People will always be in need of a physical home," he says.
Time will tell if real estate valuations in Scandinavia are a bubble that will pop or if Tollefsen indeed has the ability to ride it out. But if his adventurous expeditions are any indication of entrepreneurial character (and Tollefsen says that it is), then he has shown he is capable of some impressive achievements. Polar expeditions, Tollefsen explains, require tremendous preparation and planning, risk calculation and a great deal of adaptability and determination. Same as with business.
"Climbing a mountain is all about moving fast and safe up a dangerous terrain," says the man with most of his wealth tied up in an industry that is worrying investors all over Europe.
( Follow Max on Twitter at @Maxjedeur or email him at [email protected])